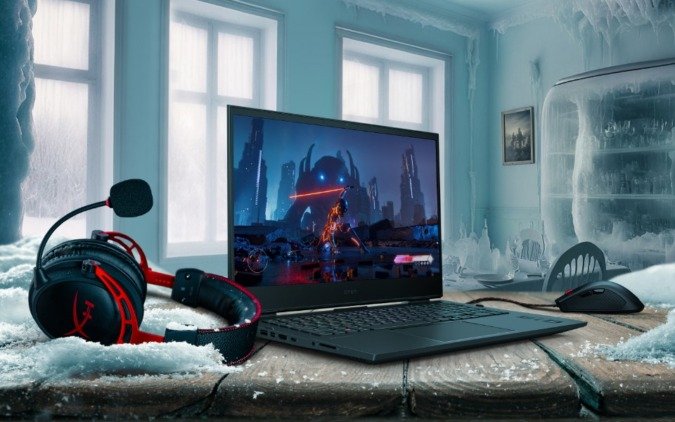 In the ever-changing landscape of gaming laptops, the HP Omen 16, priced at Rs 1.31 lakh, stands out with its sleek and understated design, marking a shift away from the traditional gamer aesthetic.
Powered by the formidable AMD Ryzen 7 7840HS and Nvidia GeForce RTX 4060 Laptop GPU, this laptop promises a smooth and immersive gaming experience. With a generous selection of ports and a user-friendly design for easy repairs, it's a compelling option for those seeking a balance between performance and aesthetics.
Design and Features

The HP Omen 16 introduces a fresh design with a substantial base and forward-positioned lid hinges, creating a distinctive "trunk" at the rear for exhaust. Centralized ports, including HDMI 2.1, 2.5Gbps RJ45 Ethernet, and 5Gbps USB-A 3.0, make connectivity hassle-free.
The laptop features expanded vents on the sides, housing two Thunderbolt 4 ports, a 3.5mm audio jack on the left, and an additional USB-A port on the right. However, it's worth noting that the SD card reader found in previous models is absent in the 2023 version.
The laptop offers Bluetooth 5.3 and Wi-Fi 6E for seamless headset pairing. Its all-black matte finish complements the RGB keyboard, featuring a brand badge instead of the previous Omen logo. While generally sturdy, some components could be more rigid. The redesigned port trunk aids cable management.
Front-facing speakers ensure clear audio, and the top-bezel webcam has been upgraded to 1080p resolution, though it may not fully satisfy professional streamers. The lack of an IR sensor for Windows Hello could be a drawback for some users.
The keyboard remains consistent with the previous model, featuring HP's chiclet-style keycaps. While the layout and font are commendable, some may have preferences for different keycap designs. Some versions come with per-key RGB lighting, enhancing key visibility and allowing customization via the Omen app.
Typing on this platform is comfortable, thanks to the spacious spacebar, deep key travel, and solid actuation. The touchpad has improved and now offers accurate tracking and a sturdy click.
Display

The HP Omen 16 boasts an FHD 16:9 aspect ratio displays with a maximum refresh rate of 165Hz. While it lacks the QHD resolution offered by some competitors, it compensates with exceptional color accuracy, scoring a Delta E of just 1.5.
This makes it suitable for graphic design and color-critical tasks within the sRGB color space. The screen covers 98% of sRGB and 75% of DCI-P3 color spaces, which is in line with industry standards. With a peak brightness of 303 nits and good viewing angles, the anti-glare coating enhances usability.
Audio
The laptop features front-facing dual speakers on its wedge-shaped base, angled for clarity even when placed on a desk. However, an additional grille between the keyboard and screen seems to prioritize thermal management over audio enhancement.
While the stereo speakers may not match the volume of some competitors, they provide balanced sound. It's worth noting that fan noise during intense gaming sessions can affect audio quality.
Performance
Powered by the AMD Ryzen 7 7840HS processor and an RTX 4060 GPU with a high TGP, the HP Omen 16 delivers impressive performance. In the Cinebench R23 multicore test, it scored 17,681 points, outperforming most high-end processors, with minimal throttling during testing. In the PC Mark 10 extended test, it further solidified its prowess with a combined score of 9,494 points, surpassing competitors.
Gaming

Gaming performance is on par with the Acer Nitro 5, which shares a similar configuration. In titles like Assassin's Creed Valhalla and Shadow of the Tomb Raider, the HP Omen 16 takes the lead, while the Nitro 5 performs better in Civilization and Dirt 5.
Thermal management is a strong suit, with the Omen 16 maintaining lower fan noise levels compared to the Nitro 5, despite similar performance. The laptop also features a MUX switch, allowing users to switch between hybrid and discrete display modes for noticeable performance differences.
Conclusion
In the evolving world of gaming laptops, the HP Omen 16, priced at Rs 1.33 lakh, stands out for its refined design and performance. It offers a sleek and sophisticated look, deviating from traditional gamer aesthetics.
Powered by the AMD Ryzen 7 7840HS and Nvidia GeForce RTX 4060 GPU, it delivers a seamless gaming experience. While its speakers are balanced, they may not match competitors in volume, and fan noise can impact audio quality during intense gaming.
Performance is competitive, and thermal management is a highlight. With a focus on aesthetics and power, the HP Omen 16 presents a compelling choice, excelling in some areas while warranting consideration in others, making it a suitable option for discerning gamers.