OK, before you start reading this post, let me tell you, we at www.stylerug.net love interviewing pretty faces, especially when it comes to the ones who are involved in giving something to men.
Now hold your mind from starting to wander to the zones we were not even referring to, as we only meant giving something to the fashion segment to that of men.
Nirali Ruparel, a Mumbai based shoe designer caught our eye not only because she is a pretty looking woman, but also because we are in absolute love with her designing skills that has made us exploring our bank details to be able to buy some shoes from her brand- Achilles' Heel.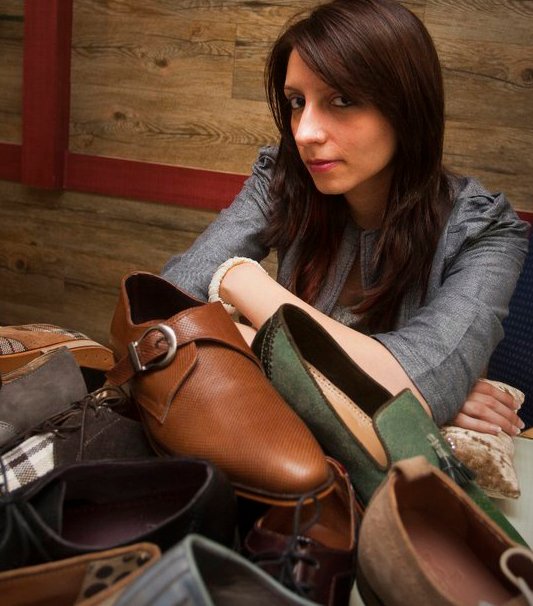 Here's the chit-chat that we had with none other, than the lady herself…
SR:You have chosen a very unusual name for your brand- Achilles' Heel! What's the theory here?
NR: The brand, while creating global as well as Indian designs, is derived from the Greek phrase *Achilles' heel*. The brand name represents its product strength as an inspiration from the immortality of the Greek hero – Achilles. His weakness in the heel signifies every buyer's weakness for our shoes.
SR: Tell us a bit about the brand and its origin.
NR: A Mumbai based bespoke luxury men's footwear brand, Achilles' Heel is passionate, but dedicated to design, comfort and craftsmanship. It is picky about giving the best comfort and fashion available in the footwear market, and endorses style that strikes a fine balance between the classic and the modern, the discreet and the bold with exquisite taste being the only criterion for selection. I launched the brand on 31st Aug 2012.
SR: What inspired you to start Achilles' Heel, instead of going the more
traditional path of designing for an existing label?
NR: All I wanted was to be a tastefully popular entrepreneur. I chose to design because I want to be creatively occupied and do something that I'm passionate about – fashion and style. And shoes, especially men's, cause I was certain that it would give my brand an edge. Why should only women get so many choices?
I wanted to offer Indian men who have a finer taste in life, something more to add to their shoe wardrobe besides the classic black oxford or the brown derby shoe.
SR: What has been the most difficult part so far of the journey?
NR: The making, positioning, building of the brand hasn't been as difficult as explaining people that one needs to take care of their shoes.. some men just can't handle pure leather!
SR: Did you learn the art from anywhere or a self-taught student?
NR: I would say both! I did a basic footwear course at FDDI, and thereafter, learnt from my experiences. Designs come to me naturally because of my creative streak, but the expertise and technical know how is a must to make good, comfortable shoes.
SR: Remember the first-ever shoe that you made?
NR: Absolutely! It was an emerald green moccasin. I dint just design it, I hand made it too from scratch.
SR: How is designing shoes different from designing clothes?
NR: It isn't actually..
SR: As I see, you have priced your shoe that makes it well within the reach of a lot many people. Would you call your market to be that of masses?
NR: 'Accessible luxury' brands like Achilles' Heel occupy the long bridge between luxury brands and premium brands both in terms of pricing and perception. So our pricing ranges from INR 4,000 -10,000 for the prêt collection and starting from INR 15,000 onwards for custom made footwear. I wouldn't exactly call it to be that of the masses, but its for the mass that is all about the class :).
SR: What do you think is the USP of Achilles' Heel?
NR: It's style forward design, craftsmanship par excellence and customized shoe service. (especially for men!!!)
P.S we can customize women's footwear too.
SR: What kind of fabrics you mostly play with, in your shoes?
NR: All kinds .. I play with leathers, woolen fabrics, synthetics etc in my dreams and weave them into my shoe fantasies to style my men. (My clients I mean :))