Home » 20 Shaving Tips For Men


Let's face it. We men want soft skin like those of our counterparts and secretly take measures to make it supple and smooth. As a matter of scientific fact men are supposed to have rougher skin as compared to women but with correct measures men too can have great and desirable skin. The key to having the best skin lies in the basics that start from cleaning, scrubbing and shaving. It doesn't matter if you are in a mad rush getting a shave properly is mandatory and an art. With these expert tips, you will be a pro at shaving and get the skin every female wants to kiss!
1.Cleanse and scrub



Use warm water to wash your face with a good cleanser as per your skin type. Avoid using hot water as it causes to dry out skin and cause irritation. Scrub twice a week after washing your face for a cleaner shave as the activity removes dirt and black and white heads.
2.Let your skin settle down
Wash your face and wait for ten minutes before you shave. This gives your skin chance to settle down and get ready for razor.
3.Invest in a good brush


Buy brush of good quality and reputed brand as only it will create rich and creamy lather and remove all dead skin cells leaving your skin smooth, fresh and problem free.
4.Smoothen it
For shaving to become an experience mix your cream or gel with two drops of almond or olive oil. This makes the shave super-smooth.
5.Apply cream in circular motion
Beard hair grows in several directions unlike scalp hair. Spread gel or cream in circular motions so that every hair of the beard is coated with it and gets easily shaved during the process. This process also helps every hair spring out from the skin for shave.
6.The blade
Replace your blade every 10 days if you shave daily to avoid distressed skin and cuts and breakouts.
7.Shave it slow and short
Men who shave at 100mph tend to get razor bumps and redness on the skin. Take short strokes ideally 2cm in length and shave slowly. This will avoid accidents and ugly skin.
8.Press the razor



Do not push as it does not give you a cleaner shave. Gently press the razor as modern day ones function smoothly with just a press for a cleaner shave. Our advise use Gillette Flexiball.
9.Shave in the direction
If your hair grows sideways in one place then shave in that direction. Do not try different direction as this damages skin follicle.
10.Do your upper lip at last
The hair on your upper lip is harder as compared to other hair on the face. The more time you leave the cream or gel on the upper lip the better it turns to shave.
11.Better your shave
Shave in hot bath or shower as the steam opens up hair follicles and makes the hair soft.
12.Rosewater
Splash your face with rosewater after shave for skin to stay in even tone.
13.Sensitive skin
If you have sensitive skin that easily becomes red and itchy try using shaving oil as it contains less ph levels that cause sensitivity.
See Also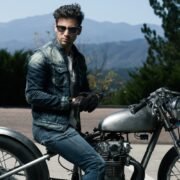 Home » 20 Shaving Tips For Men
14.Shave in the evening
If you have sensitive skins try shaving in the evening before bed so that your skin rests for 8-10 hours before hitting the workplace.
15.Aloe Vera
Skin becomes vulnerable to breakouts after shave. Apply some Aloe Vera gel after shave for a soothing effect.
16.Conceal cuts
Use a concealer to camouflage razor burns.
17.Skip aftershave
It contains alcohol that causes the skin to age and become dry. Apply an after shave balm or moisturiser instead.
18.Use ice
If there is intense irritation after applying balm then rub that area gently with ice to calm things down.
19.Moisturise



Apply plenty of it to close skin pores and for smooth effect.
20.Give it a break
Shaving every alternate day only causes your skin to age faster and open skin pores. Shave 2-3 times a week for smooth and clear skin and to avoid any breakouts.