If you are someone who likes having it all in the phone; than LG Optimus 2X is a must have for your pocket. Changing the mood of how technology is used, this sleek and sexy smart phone boasts of high end configurations that are ready to set some pulses of gadget lovers dipped in excitement.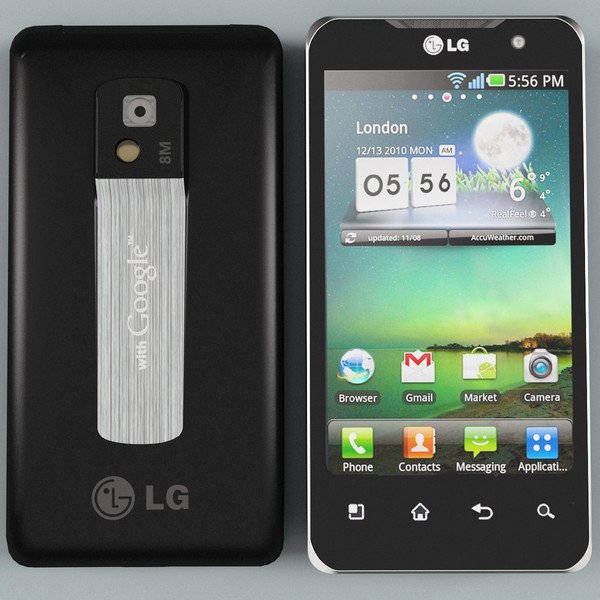 Empowered with a dual-core 1GHz ARM cortex-A9 processor, this phone takes no time to boot up and offers what the youth wants i.e. style statement. The gorilla glass display offers sharp visuals in an IPS LCD capacitive touch screen, with 16m colors display embeds the extra zip while playing games or clicking pictures.
Optimus comes with an internal memory of 8GB, and can be upgraded up to 32GB, which shall serve best for most of your purposes, especially when you are traveling. The giant leap that LG has taken with 2X is its core of Android OS, v2.2 (Froyo) that can be upgradeable to v2.3. Along with more powerful multimedia features, the LG Optimus 2X's high-performance Tegra 2 processor makes for faster, smoother web browsing and applications and lets users multitask with virtually no screen lag.
While, it can be a pain to carry a camera, phone and ipod/mp3 separately when you travel, LG definitely has an edge here with the leading competitors. The 8 MP touch focus camera acts as a jewel encrusted to bring out the shiny side of life, with the high tech music player enabling you to keep tapping your feet with headgears on. For fun – the mirror camera lets you click yourself, while you can see your bad hair day with perfection before clicking.
The LG Optimus 2X can connect wirelessly to any DLNA (Digital Living Network Alliance) compatible digital device, such as HD TVs for a console-like gaming experience taking full advantage of the phone's HDMI mirroring, accelerometer and gyro sensor.
The only area that LG could have worked better, was on the battery back up and video quality, which uses 3gp format, for the simple reason – people like it at least MP4.
See Also

Talk about a package and this phone is a fair deal, for the price that it is offered at can not be matched by many.
Price: Approximately 32,000.