Home » Trench Coats: Simple, Manly and Elegant
Trench Coats: Simple, Manly and Elegant



Tin Tin, Commissioner Gordon, Rorschach (comics), Carland Cross, Doctor Occult, Green Hornet, the Sandman, and the Crimson Avenger all have one thing in common— they've all donned trench coats in style.

The Beginning
Perhaps no garment is as romanticized as the trench coat. Initially, designed for bad weather, trench coats soon became a trend and have remained functional and almost unchanged for over 100 years. The trench coat has been a staple since it first debuted as officers' garb before World War I. These days, its function is no longer just limited to shielding us from the rain or chill in the air. However, the trench coat has gone through a major style upgrade making it a statement piece in its own right.
Wear it Right
So, how do you pick what's right for you? Normally, trenches come in single or double-breasted military style fit. They come belted, half-belted, or unbelted. But for men, comfort comes before anything. In order to work the trench, choose a fit that works best for your body type.
Ideally, a trench coat looks best when it is completely buttoned with the collar up. If you're tall, opt for longer coats that fall below the knee, as a shorter coat can make you appear larger than you are. A floor-length trench emphasizes your height, and will be more proportionally fitting and not make you look like you're wading in excess fabric.
If you're of an average height, select a trench coat that is shorter and sits above the knee. A trench coat should be large enough to be worn over a suit jacket or heavy sweater. Apart from that, if you add a scarf knotted loosely over the collar, it will just leverage your overall classic trench look.
But, before you do all of that, take a closer look at the fabric. You have to be extremely careful about the fabric that you choose. Always look for waterproof cotton drill or poplin for lighter styles. If you are a fan of the conventional look, then go for the wool gabardine.
See Also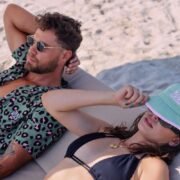 Home » Trench Coats: Simple, Manly and Elegant
In order to wear this look successfully, dress it down with a simple shirt and plaid pants. Cream is the time-honoured choice, but dark colours, especially grey or navy, generally rank high on the sexy spectrum.
This is the perfect season to don the trench coat. So go ahead and wear it well.
This article was original posted on The Label: Trench Coats: Simple, Manly and Elegant