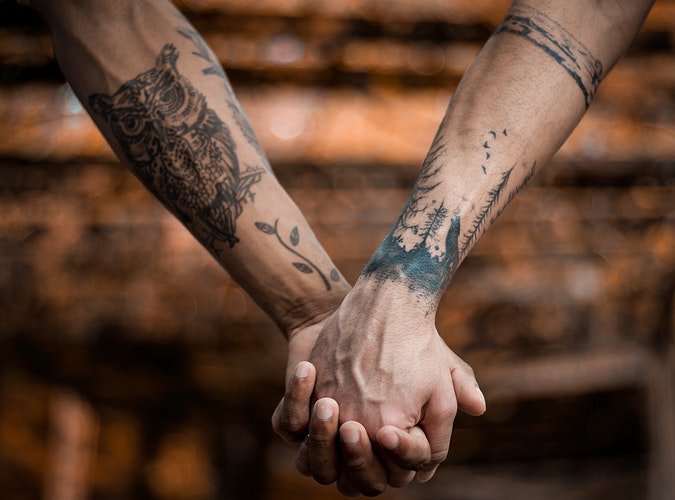 Thinking of something other than the ring to commemorate your wedding day? Matching tattoos are a great option.
More and more couples are getting inked before their big day. If you're looking for a bolder way to express your love for each other, here are some 'couple tattoo' ideas to inspire you.
Simply Drawn Heart
Nothing symbolizes 'love' more commonly as a heart shape.
Heart symbols are some of the most common tattoo designs for couples and it's not surprising why. Heart symbols are romantic, sentimental, and simply scream "love" all over. They make simple, bold statements that can't be misinterpreted.
If you feel like matching heart tattoos are too conventional, then you're not thinking out of the box. There are many ways to make them unique and exceptional.
An example is a connecting heart tattoo in which you both share the 'other' half so when you hold hands together, the heart shape or symbol forms. What could be sweeter than that?
Sun & Moon
The sun and moon are beautiful representations of a solid relationship. Sun and moon tattoos can have multiple meanings. In relationships, they represent a universal expression of the merging of opposites.
They also mean wholeness, balance, and harmony. They resemble a divine unity of two opposite people who complement each other.
Infinity Wedding Ring Tattoos
Wearing a chic diamond ring is always key. But isn't it more special to keep the symbol of love and union on even when you're not wearing your ring?
Tattoo wedding rings are very popular these days. They symbolize "marriage and love" for infinity and beyond.
While they aren't a replacement for wedding and engagement rings, these tattoos are intimate expressions of your love. Even if you're not wearing the ring, the symbol of love will always be with you.
Mr. & Mrs.
Now that you're now officially "Mr" and "Mrs", who not show it off? This tattoo is usually done near the wrist but some couples choose to have it on their fingers too.
You can even include the date of your wedding day so you will always be reminded of this very special day.
Mickey & Minnie
Are you a big fan of Disney? Or do you plan to have your honeymoon at the "happiest place on earth?" Then 'Mickey and Minnie' tattoos are the way to go.
What's great about this design is that you don't have to get them fully detailed. Mickey and Minnie's tattoos look fantastic even in silhouettes, faces, outlines, or with a pop of color.
Alternatively, you can have a King and Queen tattoo with your partner. This is yet another classic couple tattoo idea that comes in so many designs and colors.
A cute tattoo idea is a king and queen crown. Most tattoo lovers get this matching art inked on the palm or anywhere below the elbow.
The Big Date
Another popular choice for body art is the date tattoo. Some couples have their wedding date inked on the side of their fingers, on their back just below the neck, on their wrist, and even on their ankles.
Be creative and unique on the font. You can choose to be tricky, mysterious, and interesting all the way by using uncommon fonts or incorporating 3D effects. You can also have numerals and add symbols like a crown, heart, Disney faces, etc.
His & Hers
What's the sweetest way to tell the world that you are "his" and you are "hers"? This cute expression of love can be placed on the back of the ear, the tip of the shoulder, inner wrist, above the elbow, above the hip, on your thigh, and ankle.
Aside from "his" and "hers", you can use other expressions like "forever" or any other word that best represents your amazing love for each other.
Some couples choose puzzle pieces. You can either get two puzzle pieces that fit together. One of you has the missing piece. Many couples choose puzzle tattoos in 3D to make them really stand out.
Conclusion
Couple tattoos are an amazing way to express your love for each other. If you plan to flaunt your matching tattoos on your wedding day, it's important to match your tattoos with the style of your wedding dress. If your preferred area to have your tattoo has an existing one, considering a design such as a tattoo cover up can be great
You want to make sure you're able to showcase them. For example, if you're going with classic formal dress shoes for men, don't get inked on your ankles rather opt for date tattoos or infinity wedding ring tattoos that will surely complement your look.