His acting career started with Imtiaz Ali's Rockstar and soon the list had names like Love Express, Jo Dooba So Paar, Myoho, Once Upon a Time in Mumbai, Two States, Karle Pyar Karle, Bezubaan Ishq and Wedding Pulav.
Then we saw him impressing us with his acting skills in Befikre- sharing the screen with Ranveer Singh!
In simple words, Aru K Verma, is on a roll and riding the tides high.
Recently I got a chance to interact with this versatile actor who also happens to be one of the top plus size models in the country.
Take a read!
SV: Five years since Rockstar, how has been the journey so far?
AKV: The journey has been exactly how life has been so far. It has had its ups and downs, but the important thing is that it all stayed. Thanks to the relentless perseverance of my family to push me towards becoming what I am today.
At the start, I was asked this question in a Yash Raj Audition; 'where do you see yourself in five years'? I said "I want to be someone I am proud of when I look back at those 5 years", and I am glad it turned somewhat around that vision only
SV: How difficult or rather adventurous, the journey of being a plus size model and then becoming an actor?
AKV: I was actually an actor first and then a plus size model. I have been acting since 2009, while I started modeling only in 2015. It has been an adventurous journey and every adventure that is easy; is not an adventure at all.
You start to question yourself sometimes, sometimes people question your ability and your looks. They mock you, they demean you, but you have to respect what you are and just keep on going and move on. I believe that's the name of the game anyways.
SV: How did people react, when you decided to become a model/actor?
AKV: I don't know about people because I didn't tell anyone except my family, my Mom, Dad, sister, Chote Mamu and his family that's it. But, the best reaction was from my Dad. When he came to know that I want to become an actor he just looked me straight in the eye with a confused look saying "Kyun, tumne Nachaniya banna hai?"
I didn't have an answer for him then, but without a shadow of a doubt. he is the pillar of my existence. My mom has never stopped me for anything, but been there like my backbone always, and my younger sister just believes in me, in a way that her brother can practically do anything. I just try to keep up to their expectations.
SV: You have been a model, also been on TV, then on the silver screen… what is your preference…if you had to pick one.. and why?
AKV: All are mediums of being an actor. I don't have any preference till the time it excites me and every day I want to get up to go to work and do something new.
Unfortunately, TV in India is a little monotonous, but you find your ways to make peace with that, by trying to bring something new to the character over time you play it. I would, however, pick films if I had to because the journey of the character is much faster than in television.
SV: How would you define yourself as a person and as an actor? I somehow feel that you are inclined towards comedy… am I wrong to think that?
AKV: Sorry to say but in this case 'totally wrong'. I used to hate comedy. I still think it is the most difficult job in the world to do. However, I started enjoying it with the TV show "It's Complicated" for Channel V. It actually taught me a lot.
In order to understand the medium you are catering to, the audience and what works when and where- you need to give it all, and that is what comedy demands.
I would literally kill to do negative roles, as I think I can create something that I am not. To answer how I am in person "Well I would just like to say that I like being deceptive to the environment around me. I am actually an introvert, but a publicly extrovert person. I would talk about myself, but not what exactly what I am feeling or saying.
SV: Delhi vs Mumbai… what makes the two places different? Is it really taxing on one once they shift?
AKV: This is the question that I have been asked a lot, and I always have one answer; Mumbai has made me what I am and Delhi gave me the strength to handle and be what I wanted to be. So, I can't live without any of them. One is the heart, while the other is the soul of India.
SV: How was your experience working with Ranveer Singh in Befikre… as an actor, what do you take from him on the sets?
AKV: I'll like to sum working with Ranveer Singh in just one word- Energy!
See Also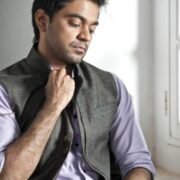 It takes a toll on you as a co-actor to actually match his level day in and day out, and even as a person the respect he has for the craft is absolutely commendable. We used to rehearse a lot before the scenes, but it always was so spontaneous in the take that it would be just fun.
SV: I have to ask you this, your smile seems pretty infectious… are you one of those lady-killer types?
AKV: Well that's a first! But, fortunately, or unfortunately I am not. I have a set of few friends and I like to keep it that way. My trusted circle is small and it takes me some time to open up with people. But, I am a good listener and I don't want to be modest about it.
I love to treat people with respect and I adore the ones who are self-made and ambitious. You learn a lot from these people.
SV: Talk us about your love life… is there one? If yes, then share your story… if not then what kind of woman would make you fall in love with her?
AKV: Hahahaha, there have been a few ups and downs, but not the ONE yet. My love life is based around my business and my acting career, and I know it sounds boring, but that's the way it is for me. I confess I am a workaholic!
For me, the most important factor that I would like to see in the woman I love is that she needs to be intelligent and more ambitious than me. And one thing that I can't live without is how the hair should fall upon the face while she is talking. Can't live without that!
SV: What can we expect from you in the future? What kind of roles would you want to leave your mark with?
AKV: As I said earlier, I want to look back and be proud of myself. I think there is no greater legacy than a life lived to be something in your own eyes, rather than someone else. You should have no regrets when the time comes to say goodbye.
SV: Last, but not the least, your take on www.stylerug.net
AKV: I started reading StyleRug when a friend shared an article and I remember it clearly because I haven't read anything like that ever. Things to learn from gays!
It was very professionally written and not profound at all. It was just what it was supposed to be. I can't say I am an avid reader, but I liked the way the content was presented because it gave you a sense of professionalism at the same time a platform to say things freely. I hope that this becomes much bigger than it already is.

Sandeep Verma
One of my friends once said, I am in love with words and a zoned out poser... well, I will keep it the way it has been said! Besides that you can call me a compulsive poet, wanna-be painter and an amateur photographer