"Once A Year, Go Someplace You've Never Been Before."
– Dalai Lama
How true are these words from the blessed soul of Dalai Lama to our very own existence to its relevance?
I mean, imagine a world where we are restricted to our own backyards and have no option but to be there 'all the time.'
Ehh, now you say, we don't have to imagine at all, as the current pandemic of Coronavirus i.e. COVID-19 has made sure that we indeed taste that life. And don't we hate it!
Also Read: Best Summer Activities For Adventurous Men
Funny as it Is, it took a horrific pandemic to actually lock me down in my house and make me realise how I miss stepping-out of my home, how I miss my long drives, my chilling-sessions with my loved ones and most importantly how I miss my traveling days.
Before a nationwide lockdown was announced in India due to Coronavirus, I was actually busy making plans of a short trip to Goa with a friend of mine and wanted to explore some unexplored sides of it to write about. Well, considering that never happened, I thought, bugger it, why not write about my trip to Sri Lanka, which I never penned down and is long due.
Also Read: Best Travel Destinations For Single Guys
So, here I am!
My Sri Lanka trip happened way back in the winter of 2018 with one of my closest friends Prem.
While the idea to travel to the land of Buddhism originated with the availability of ultra-cheap flight tickets (INR 9400/-only, to and fro) from MakeMyTrip , the planning phase was full of research and excitement.
Are You Looking For Budget Honeymoons?
Being the tech nerds that we both are, we charted a well-planned path for our trip that consisted of three nights and four days, a big thanks to Google GPS. And off we went!
Arriving In Sri Lanka
We arrived at around 4 AM Sri Lanka time at the Bandaranaike International Airport, which is about 33 km away from Colombo City.

Now, before coming we had checked a lot of cab options to go Mirissa but we decided that we would be better off if we checked our options upon arriving in Sri Lanka.
Immigration And Taxi
Once we were done with the immigration process, the first thing we did was to buy a local SIM card for 650 LKR which is about INR 260. You get about 100 mins of call time and 500mb of data, which is good to last you 3-4 days if you use it wisely, which I did not.
When we were done sorting that, we started talking to the local taxi drivers. Our plan was to stop at Pinnawala for a few hours to rest a bit and then Sigiriya for an hour or two, post which we wanted to stop nowhere but Mirissa.
After talking to a few taxi drivers we finalized on one who would charge us LKR 25,000 (INR 9800 approx.) and take us to all our destinations, and in the end, drop us to Mirissa.
Our First Hotel
Our first stop was at Luck Uyana Cabana Pinnawala, which we booked while we were coursing through the virgin, serene and mesmerizing beauty of Sri Lanka.
Yes, you read it right. We did not book any hotel(s) before arriving and decided to take the call as and when we were on the road.
Although we spent only three hours at the Luck Uyana Cabana Pinnawala, I must say I fell in love with this place as soon as I entered its premises.
About 72 km away from the Bandaranaike International Airport hotel Luck Uyana Cabana Pinnawala consists of beautiful cabins and an amazing view of the untainted beauty of this breathtaking island. We were escorted to our rooms by a very cute black and brown beagle and being a dog lover that I am, I could not think of a better start to our trip than this.
Now, there's one thing that you need to be wary of when you stay in hotels that are close to coastal lines and that is ants. You will find a lot of ants everywhere, and I experienced it as soon as I entered the washroom to take a leak.
A group of thousands, if not millions of ants, was crawling on the walls and I hate to admit it but I had to spray them off with water to make some room to perform my own duty.
We had a very light breakfast of omelet and tea at this hotel and then we took a small tour of their herbal & spices garden, post which we decided to visit the Pinnawala Elephant Orphanage.
Pinnawala Elephant Orphanage
Established in 1975, by the Sri Lanka Wildlife Department in a 25-acre coconut property adjoining the Maha Oya River, the orphanage was originally founded in order to afford care and protection to the many orphaned Elephants found in the jungles of Sri Lanka.
It was worthwhile to see old and aged elephants spending their last days of life here mingling with humans, giving them small joy rides and eating from their hands.
For USD 20 fee you can take a ride, feed the elephants, and even give a small bath if you are up for it.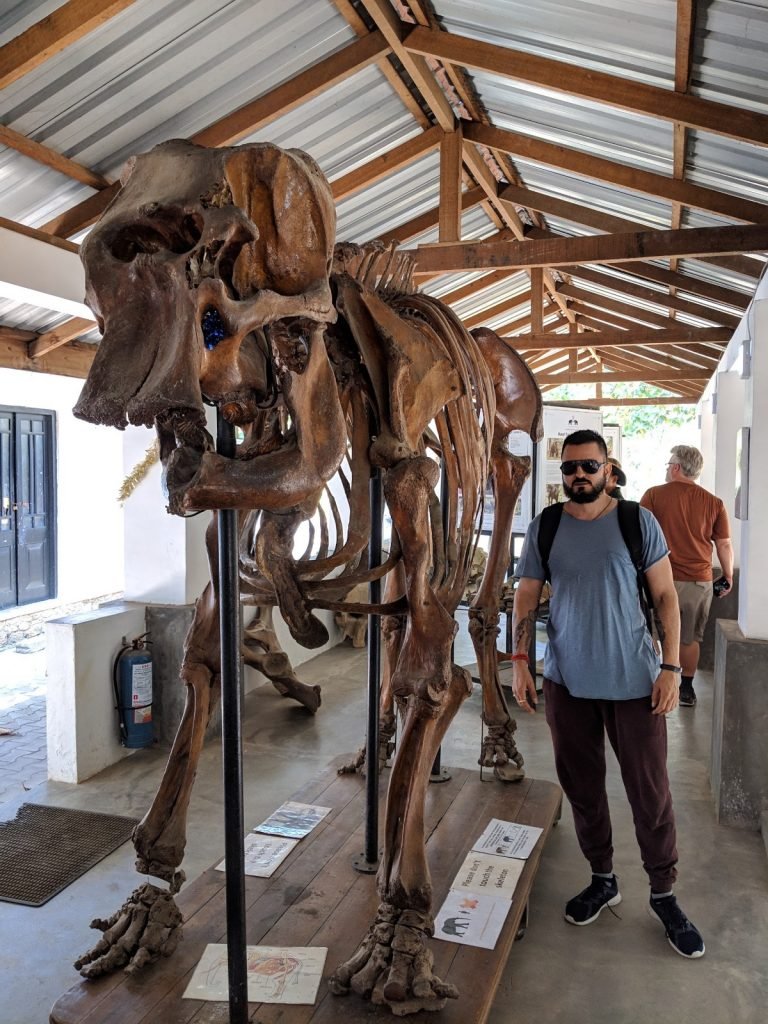 After spending a couple of hours at the Elephant Orphanage, we had a heavy lunch in one of the hotels on the highway and took off to Sigiriya which was our only stop before Mirissa.

Us In Sigiriya
This is where I had my first argument with the cab driver, According to him, we were only to visit Sigiriya, see it and move on and not climb it and spend some quality time there. After some heated words, cooler heads prevailed and he agreed to wait for us as we took a hike to it.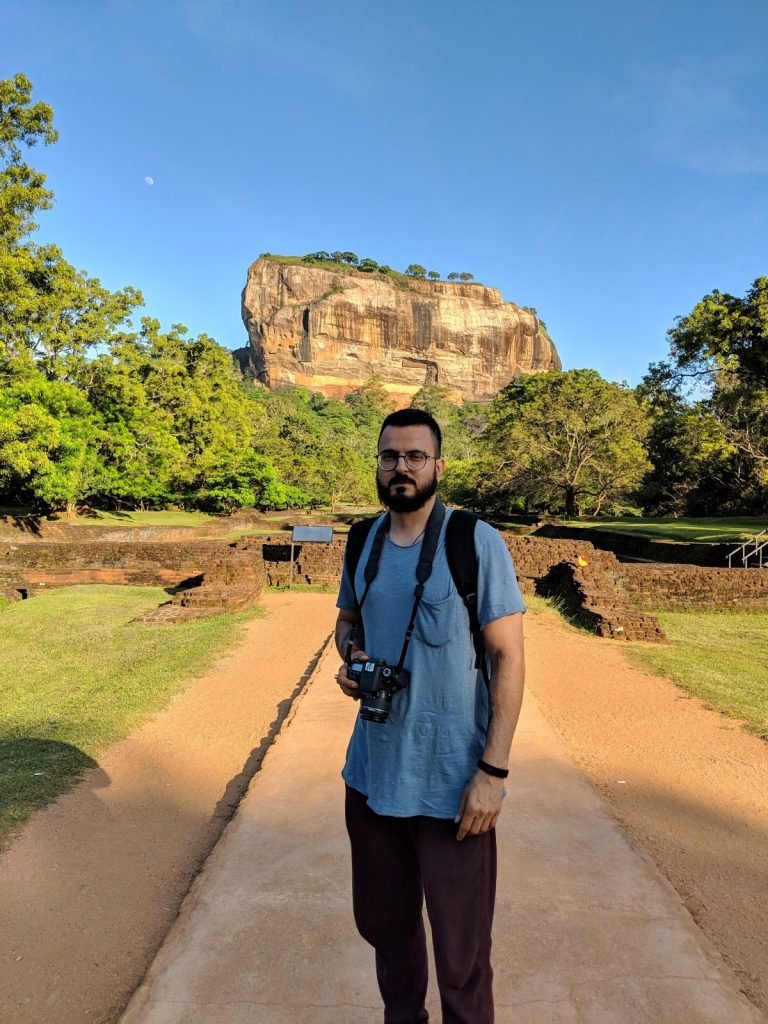 For those who want to know a little bit about Sigiriya- the name refers to a site of historical and archaeological significance that is dominated by a massive column of rock nearly 200 meters high and was once the palace of King Kashyapa.
A scenic delight, once you reach the top of this rock, the only thing that you will see, till wherever you can see, is a green lush forest that has no end to it. The winds blowing against your face and the clean air that you breathe, it makes you wonder, why the holy hell we destroying this planet for things that have no relevance after a certain period in our life.
There is so much good on this planet to preserve and protect, to cherish, and to absorb.
As we started to trek down from this mighty rock, I and Prem were both so spell-bound that we hardly spoke and just wanted to soak in the beauty of nature that is available to us with no underlying terms to be bounded with… It's just there…for all of us.
Rich or poor, no caste no creed, no region no sex… it's there for us, all of us, and the sooner we realize it, the better it will be for our race.
As the hue of the evening turned into the dark of the night, our cab was racing one small City after another towards our final destination – Mirissa!
On our way, we booked a room in a resort called Coral beach using booking.com at an astonishing price of USD50 a day.
This beach-facing property opened only a couple of months back and I have no doubt it has seen some good times post our visit as it is a beautiful property with very friendly staff and management.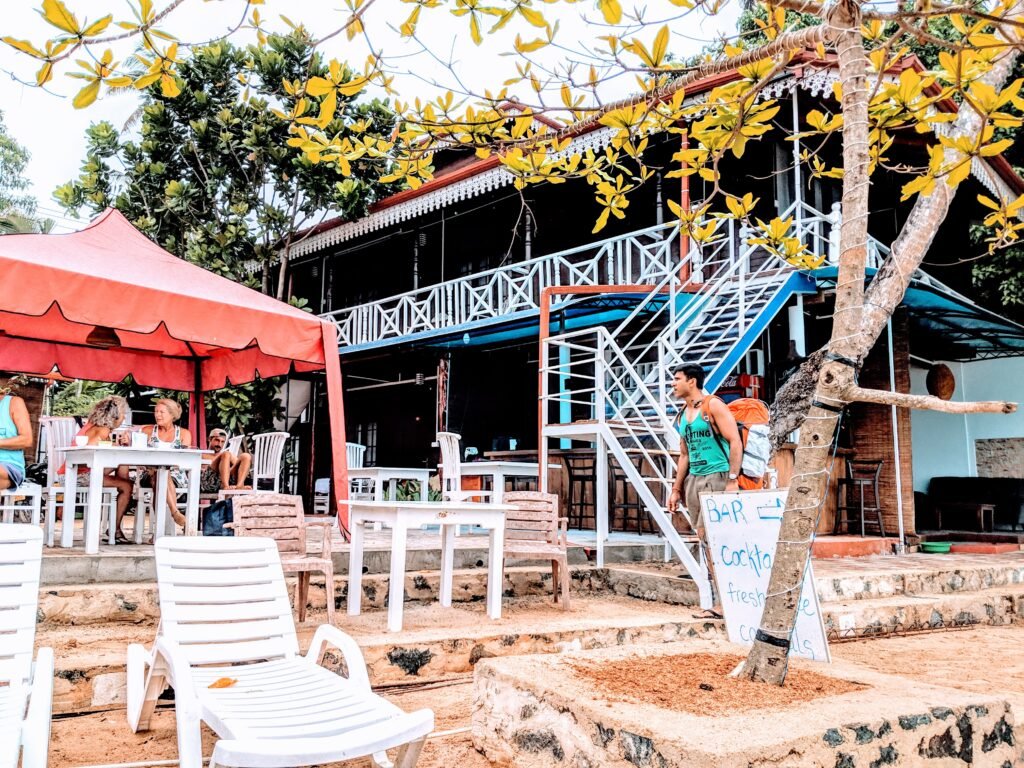 The only thing they lacked during our visit was a running kitchen as it was still a work in progress, but that was not a problem at all as there were numerous shacks and hotels on the beach to eat at.

We were supposed to spend only a day at Mirissa and have one day each at Galle and Kandy, but when we realized that these cities were only about 70 odd km away from Mirissa, which had captivated our hearts, we decided to keep our room at the resort and visit, Kandy, Galle, Hikkaduwa, Bentota on our Scooty and ride back to Mirissa whenever we felt like.
The next day we went to Sea Turtle Hatchery & Rescue Center in Hikkaduwa and witnessed the rehabilitation of various types of turtles that are being nurtured there.
It was astonishing to see a baby turtle that was only a couple of days old. To touch them like we could was a once in a lifetime experience.
We spent about 45 minutes there and then took off to Galle which is about 22 km from Hikkaduwa.
We spent some time at the Galle Fort and rode back to Mirrisa by about 8 PM and enquired about any parties that were to take place that night on the beach.
And that is when I came to know about a very interesting fact. Parties on the beach fronts are not promoted anywhere and no-one knows where it is going to be at. What they do is, at around 10 PM the designated party place of the night would burst firecrackers at their venue and that's how you come to know where the part is at that particular night.
It would be no exaggeration if I said that it was one of the best parties that I have ever been to. The added advantage that worked for that place was that they were playing Techno, which is a genre I have a huge interest in considering I spin it myself in India.
This was the day when I rode a bike without an international license, this was the day when I had swigs of whiskey while doing that, this was the day when I had sea-food after 8 long years, this was the day I first tasted Lion King beer and this was the night when I had my first-ever Crab. To cap it off with such amazing music at the shore was like a dream come true.
As mentioned earlier, we spent our time riding between cities on our Scotty which made it possible for us to look around and explore the unknown lanes of all these places.
Why would you want to stay confined to one place when you can cover it all being on the road? Isn't it more exciting? More spontaneous?
One aspect that I admired the most about Sri Lanka is how clean it is. You will hardly see any litter on the ground anywhere you go and that makes you self-conscious and not to indulge in any littering yourself. The civic sense of drivers and riders is amazing and no one changes their lanes without giving a signal – how cool is that?
Now, it is hard to say it all in one blog post about this place, but if you do have a question then post it in the comment box below and I shall respond to the best of my knowledge.
Till then happy reading, and keep supporting the blog.

Sandeep Verma
One of my friends once said, I am in love with words and a zoned out poser... well, I will keep it the way it has been said! Besides that you can call me a compulsive poet, wanna-be painter and an amateur photographer