Of a rare breed and of many talents, Farhan Akhtar dons many a hat – of director, producer, actor, singer, poet, but the list doesn't end just yet. He also wears the hat of a style icon with equal penchant and play. Suave and playful in equal measure, his fashion choices, like his movies, always hit the mark.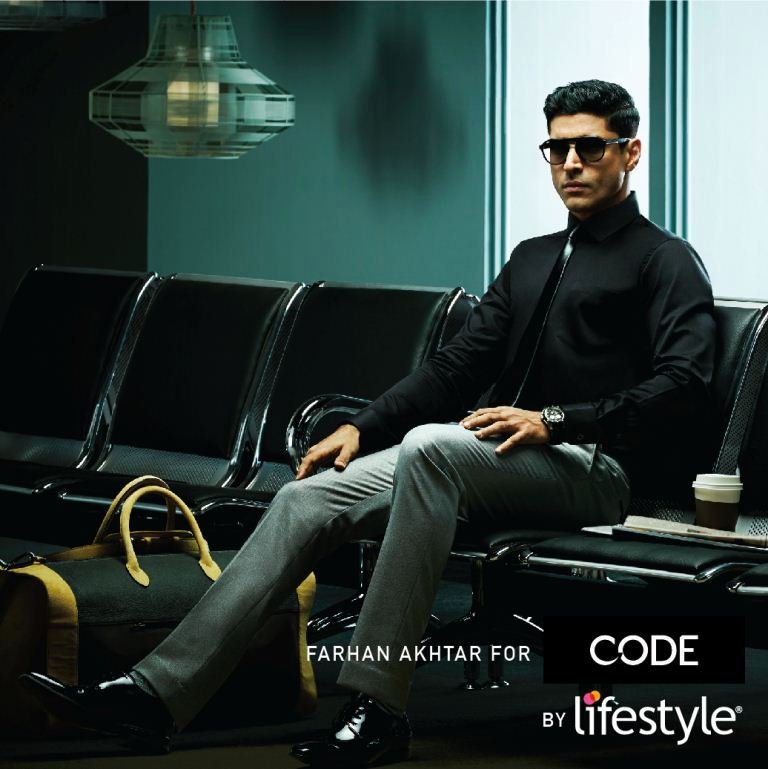 We caught up with Farhan during the shoot of Code by Lifestyle's latest campaign and got some great style secrets from the man himself…
Q. You are a man with many facets. What does it take to write your own code?
A. It takes a certain sense of self-belief, the support of people around you who matter and I think on some level, it takes a certain psychology of not being afraid of failing. Most people, sometimes, are not brave enough to venture outside their comfort zone for the fear of failing. I think unless you fail, you don't learn.
Q. How do you do justice to the many roles that you play? What sort of preparation does it take?
A. It purely stems from belief in the project, in the work and then in the people who are involved with you when you are doing that work. I'm excited about entertaining people and I'm excited about engaging with people. It could be through writing a film, directing a film or just producing it, acting in it or performing on stage. For me the enjoyment factor really is the interaction that happens with the crowd. So be it in the feedback that comes usually later on about the film or in the moment when you are doing a concert or performing, you get some feedback from the co-actors or director. To me, that is truly enjoyable. I like entertaining people so what I do in so many avenues allows me to do that.
Q. How does apparel and grooming help in portraying yourself in a particular situation?
A. I think first impressions are pretty lasting. We all have certain synapses in our brain that make us immediately form some kind of an opinion about someone, when we first see them, depending on how they look. More often than not, when you get to know that person better, they could either live up to that opinion or live down that opinion. But you have to agree to the fact that there is something known as the first impressions and I think how you dress and how you kind of behave has a lot to do with it.
So, I feel, up to a certain degree, the clothes that you wear are a representation of your personality and who you are. To some extent that is what reaches out to a person, first time that they meet you.
Q. What's the one thing that never fails to make a statement?
A. It would be difficult for me to say any one specific thing because I feel everybody has their own style and their take on what they feel works for them. To me, truly I feel it's important to be comfortable in what you wear. Because if you're comfortable and by comfortable I don't mean loose clothing. By comfortable, I mean you feel happy in what you wear, that happiness reflects in your energy, in the way you are, wherever you are. It's important to be happy.
See Also

Q. Describe your style in a word.
A. It'll probably say sharp. Casual sharp, sharp casuals, sharp formals, sharp informals.
Q. Following trends or creating your own style statement, what would you tell people out there?
A. We all need inspirations; I think we should face that fact. It's very rare that work happens in a vacuum. You take inspirations from other people, you take inspiration from other works, from fashion, from art, from watching a film that's styled in a particular way. So, we all need those impulses to draw upon but then eventually, what you translate it into, matters the most.
What you're wearing really depends on your sense of style and how you can put things together and make it kind of your own. So, I really think, it is a combination of the two because we have to draw inspiration from somewhere making it easier to think about the possibilities. Once you know this, that's when your core and your personality takes over. So, it's a combination of the inspiration and your own interpretation of it.
Q. You are now the face of Code by Lifestyle – your thoughts?
A. I'm really happy to be face of Code by Lifestyle. I'm very, very grateful because I'm having a great time on the shoot. I love the clothes that I'm wearing and I look forward to wearing it for years to come.