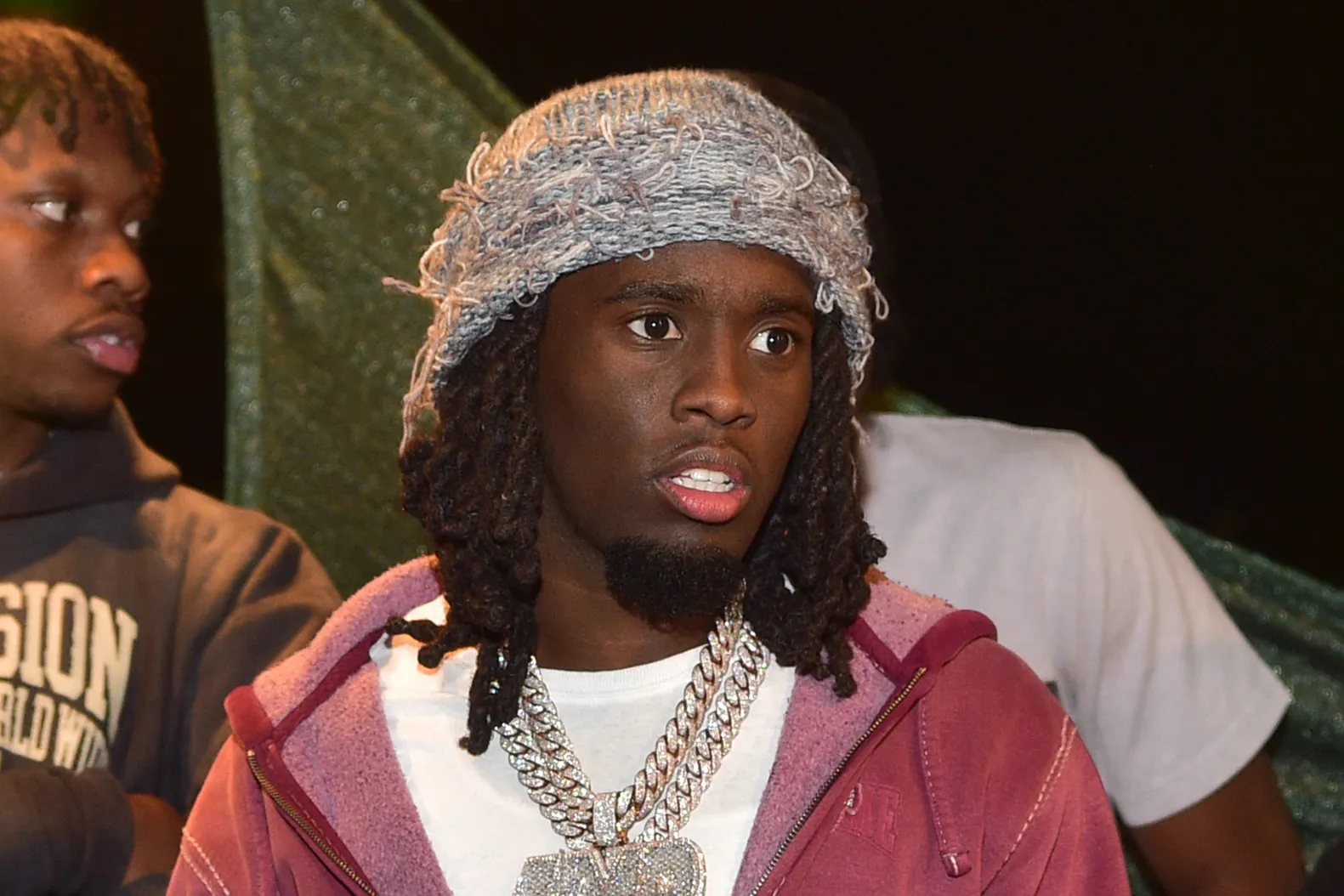 US YouTuber Kai Cenat is facing potential charges from law enforcement following a chaotic episode triggered by a video game console giveaway event he orchestrated in New York.
The event led to a frenzy in Union Square, with a multitude of individuals engaging in disorderly conduct, throwing projectiles such as bottles, stones, and cans of paint.
Kai Cenat may potentially be charged with multiple instances of inciting a riot and participating in an unlawful assembly.
The turmoil unfolded as individuals began to assemble around 1:00 PM local time (17:00 GMT) in response to Mr. Cenat's social media announcement. Cenat, boasting a substantial following of over 10 million subscribers and followers, had proclaimed his intention to distribute 300 PlayStation consoles.
Before you read ahead, how about connecting with us on our social media platforms?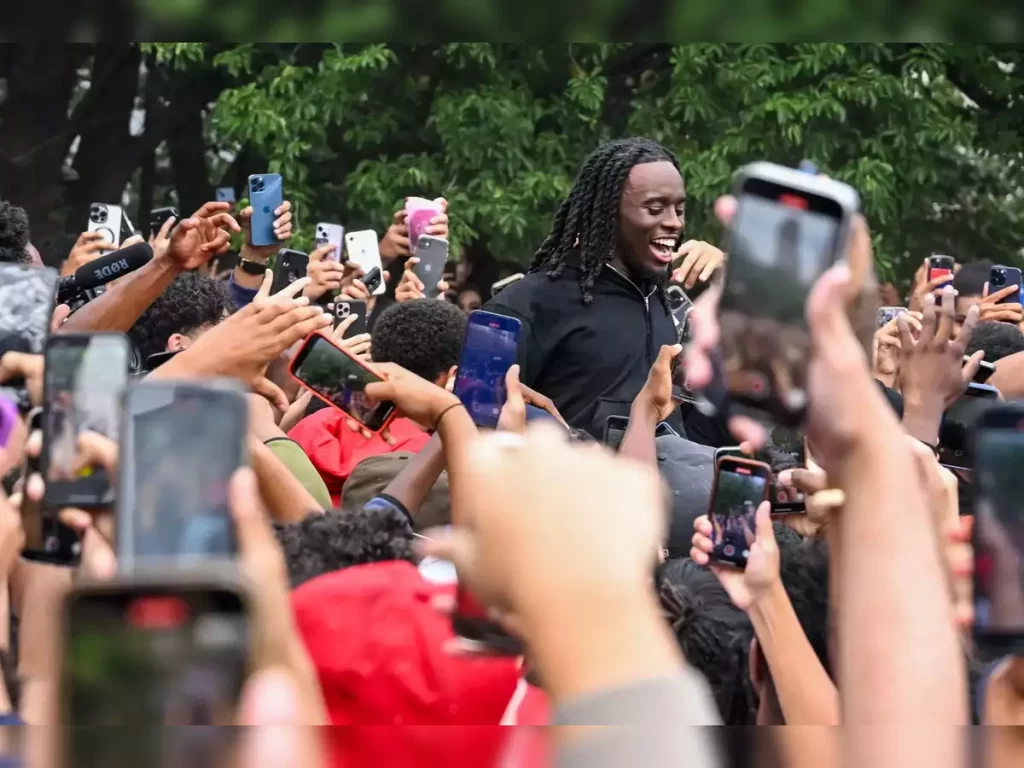 By 3:00 PM, the crowd had swelled significantly, overflowing into the streets surrounding one of New York's busiest train stations. The situation escalated, with people clambering onto vehicles and the roof of the train station's entrance, and even launching bottles at law enforcement officers who had arrived to address the situation.
Here's more about the life of Kai Cenat.
Kai Cenat, a 21-year-old sensation in the realms of Twitch and YouTube, has become a celebrity powerhouse, captivating a massive audience through his dynamic gaming, pranks, and infectious persona.
To those who dedicate hours to witnessing Cenat's lively interactions with friends and guests during livestreams, his inclusion as one of Rolling Stone's "20 Most Influential Creators of 2023" holds no enigma.
Cenat's popularity has soared to extraordinary heights, boasting an impressive 6.5 million Twitch followers (making him the platform's top-subscribed user) and a YouTube following of 4 million.
Such is his influence that his promotional ventures are capable of inciting widespread commotion. On August 4th, a multitude of his fans flocked to New York's Union Square, lured by the promise of a grand giveaway of PlayStation 5 consoles, an event co-hosted by fellow streamer Fanum.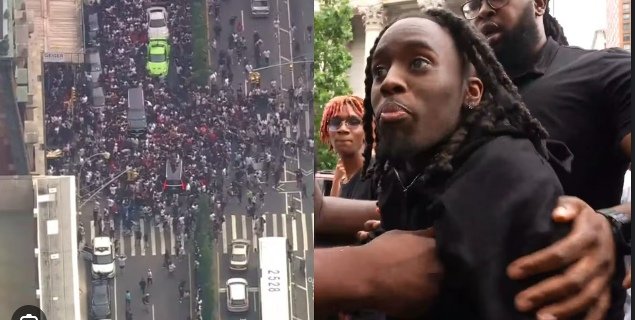 The crowd swarmed the park and its surroundings well before Cenat's arrival, and reports indicate that the situation escalated into disorderly conduct, leading to several arrests. In the midst of the chaos, Cenat endeavored to capture the scene via a Twitch stream; his security detail appeared to encircle him, warding off the tumultuous and vociferous masses.
It is plausible that any consequences stemming from this incident will only serve to amplify Cenat's renown. A native of New York, Cenat embarked on his journey in 2018, initially delving into YouTube pranks and challenge-based content. However, he truly burst onto the Twitch scene in 2021, rapidly gaining notoriety for his gaming streams and his entertaining reactions to viral cultural phenomena.
His endeavors span from real-life interpretations of classic comedic routines to heartwarming videos showcasing acts like buying a house for his mother or disrupting college lectures by cooking eggs in classrooms.
He revels in assuming the role of a "provocateur" in these escapades, and it's evident that his supporters enthusiastically endorse these audacious exploits.
As anticipated, his path has also been marked by occasional temporary suspensions from Twitch. The first two instances were triggered by inadvertently sharing explicit images while browsing a subreddit forum created by his fans.
In March 2022, he faced a month-long suspension reportedly due to comments that could be interpreted as threats.
In 2023, two more suspensions followed, with speculation among viewers suggesting the first was a result of an on-camera episode involving cannabis edibles, and the second stemming from simulating explicit activity in the game Grand Theft Auto V, which violated Twitch's policies.
Throughout his sometimes tumultuous journey, Cenat has progressively aligned himself with high-profile rappers, engaging in hangouts and interviews with artists like Lil Uzi Vert and 21 Savage.
In addition, he has ventured into the realm of music, releasing his own singles while extending his content's reach globally. A recent international trip culminated in the creation of the video "I Rented Us Girlfriends In Japan."
His most noteworthy Twitch achievement occurred starting January 2023 when he undertook a remarkable 30-day "subathon," livestreaming around the clock to encourage subscriptions. He even allowed viewers to witness his sleeping and bathroom breaks, ultimately shattering the previous record for active subscribers with an audience exceeding 300,000 paying viewers.
At a certain point during this marathon, viewers believed they witnessed an inappropriate act, though Cenat denied the claims, clarifying that the person with him on camera was merely scratching his leg.
Cenat's journey culminated in him securing the title of "Streamer of the Year" at the Streamer Awards in March, a distinction he had previously claimed at YouTube's Streamy Awards the previous October.
He has once again received nominations in various categories for this year's Streamys, including the coveted "Just Chatting" creator award. The awards ceremony is scheduled for August 27th.
With these remarkable achievements under his belt, one may wonder what lies ahead for this young internet sensation.
While the possibilities are open to speculation, Cenat's fervent and devoted audience ensures that numerous brands and influencers will eagerly join him on his continued journey.