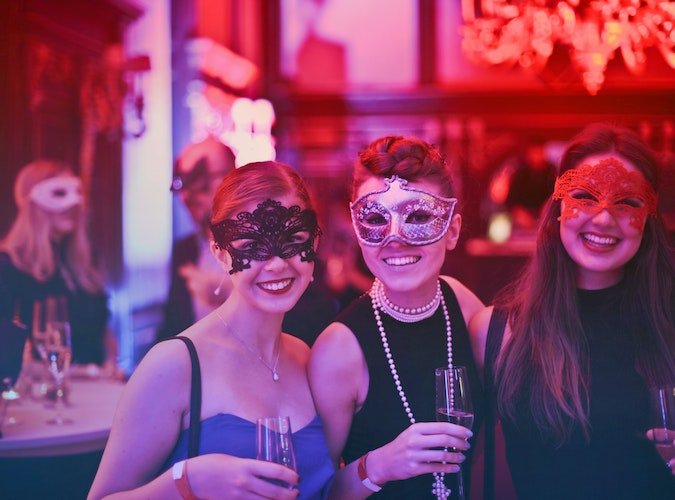 A bachelor party is an opportunity for any groom to spend quality time with his best friends and celebrate the beginning of a new chapter in his life. It's a time-honored tradition, and as a result, there are various ways to organize a bachelor party.
Ultimately, it's up to the groom to decide what to do and when. For example, this might involve throwing a big bachelor bash or going away for the weekend and enjoying a few days of fun with his closest friends.
Typically, it's the best man's job to plan a bachelor party, but this doesn't mean that the groom cannot take part in the preparations as well. Today we will take you through a few easy steps that will help you throw an unforgettable bachelor party.
Decide On A Date
You can organize a bachelor party anytime before the wedding, so it's up to you and the groom to choose a suitable date. For example, it might be a good idea to throw a bachelor party the same weekend as a bachelorette party is due to take place.
However, this might not always be possible due to differences in schedules. Once you select a date, you should start the planning process as soon as possible, ideally three to six months in advance.
This will give you enough time to get everything you need and create a guest list.
Plan Fun Things To Do
It's important to plan a few fun activities, that everyone can take part in. It might be beneficial to look for some bachelor party ideas online and select a few that spark your interest.
For instance, you can find a variety of bachelor party ideas at Greenvelope. They can help you plan the perfect bachelor party and create new memories that the groom and his closest friends will cherish forever.
You will find out more about traditional favorites, such as road trips and Las Vegas, as well as some new and exciting ideas for gaming nights, bungee jumping, scavenger hunts, and more.
Choose A Nice Location
Another key thing to consider is choosing the right location, which should take the vibe and main theme of the party into consideration. Whether it's a once-in-a-lifetime trip or a local night out, there are plenty of great venues to explore.
Be sure to consult the rest of the group when it comes to selecting a good location, as they may have some ideas that you would like to look at.
Also, it's important to read more about different venues so that you know what is included. This will ensure that you won't be disappointed on the day.
Establish A Realistic Budget
Don't forget to establish a budget, that will help you determine how much you can spend on different aspects of the party. It may be beneficial to talk to everyone else and agree on a number together.
Make sure that everyone is aware of the total cost, covering accommodation, transport, dining, entertainment, and so on. Before finalizing any details, ensure everyone is on board with your suggestions.
It may also be a good idea to create a spreadsheet and provide access to everyone so that they can share their thoughts and changes can be made before the party.
Finalize The Guest List
Make sure you gauge interest early on and decide on a number of guests, which will allow you to start sending invitations. This will also help you finalize other details like accommodation and transport.
You may want to send everyone on your list a preliminary invite to let them know what to expect. Then, you can create official bachelor party invitations stating the time and venue of the event. It's advisable to send them early to provide them with as much lead time as possible.
Speak To The Groom
If the groom isn't involved in the planning process, you may still want to discuss a few key things with him, such as the location and the activities you have planned.
Make sure you ask for his opinion on a few basic details to ensure that he will have an amazing time. For example, there might be activities that he wouldn't want to take part in. As a result, this will make party planning a lot easier, so it's important to respect the groom's wishes even if you are planning a surprise bachelor party.
Get Everyone Involved
Apart from making sure that the groom is happy, you will also want to check with the people on your VIP list.
This way, you can also get some help organizing the party and get an idea of how everyone feels in the run-up to the event. It might be a good idea to set up a group chat where you can bounce ideas off each other. Moreover, texting each other regularly will ensure that everyone's opinion will be taken into consideration.
Look For Good Accommodation
Once you know who is coming, it's important to book accommodation before it's too late. Keep in mind that if you would like to plan a bachelor party over a holiday weekend, prices might go higher. Also, restaurants may have longer wait times, so it might be more difficult to book a table.
Therefore, it's advisable to look for affordable accommodation, such as a nice hotel offering room service and other perks.
Alternatively, if you want to stay somewhere for a longer time, you may want to rent an apartment or house. It will all depend on your preferences and budget, so check out different options before you make a final decision.
Arrange Meals Ahead Of Time
Last but not least, you should think about the food and drinks you want to have. For example, you may want to book a table at a nice restaurant ahead of time or stock up on snacks and other treats at your rental apartment or house.
There are lots of options to choose from, such as chicken wings, chips, pizza bagels, cheese balls, and more. It's also important to recognize that everyone has varied tastes, so you should ask around to see what everyone would prefer.

Sandeep Verma
One of my friends once said, I am in love with words and a zoned out poser... well, I will keep it the way it has been said! Besides that you can call me a compulsive poet, wanna-be painter and an amateur photographer