It would not be wrong to say that, over the years men's fashion has revolutionized its identity. And no, we are not only talking about men's ready to wear here, but also the accessory part that plays a pivotal role in how men today perceives fashion to be. Today's metro-sexual men not only likes the chic products that are in offer, but are no more afraid in embracing the products that come with a bit of a bling attached to them.
While watches, shoes, belts, scarves and cufflinks can surely help one uplift their overall look, including a classy looking pen to your attire can only enhance it further. And in today's fast paced world, it's the first impressions, which often make or break a deal, won't you agree to that?
Keeping that in mind renowned brand Cruiser presents the stunning Swarovski studded Cruiser Solitaire.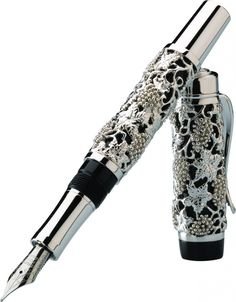 The Cruiser Solitaire represents the perfect blend of a superior writing experience courtesy its superfine German ink with classic good looks customized to appeal to your artistic senses. It is undoubtedly a premium pen, which epitomizes class and redefines luxury and elegance. Its elegant body is beautifully crafted in sterling silver 925, making it aesthetically and visually appealing and a must have for any pen connoisseur.
Embedded with Swarovski crystals and equipped with the finest writing technology, the Cruiser Solitaire is a classic ball point pen, which will enchant its audience with its sparkle. An elegant piece of art, the Cruiser embodies class and elegance.
The ideal gifting option for both corporate purposes and for near and dear ones, Cruiser is sure to win hearts.
Marketed by Linc Pen and Plastics, the Cruiser Ball Point Pen is available exclusively at all Office Linc outlets across India.
Price: Rs.12,500