Peter Minkoff
Peter is a men's grooming & fashion writer at High…
Australia's thriving metropolis of Sydney provides countless chances for exploration and adventure.
The city attracts singles from all over the world because of its breathtaking beaches, exciting nightlife, and growing cultural environment.
Here is a guide to assist single men make the most of their time in Sydney. It will show you how to move around and have great adventures.
Exploring the City: Bondi Beach and Beyond
Sydney is known for its gorgeous beaches, and a trip to Bondi Beach is a must. You may take in the rays, ride the waves, and take in the energetic beach scene as a single man. With cafes, bars, and restaurants dotting the seafront, Bondi has a lively environment.
Take the beautiful Bondi to Coogee Coastal Walk, which shows the breathtaking coastal views, if you're feeling daring. Sydney's city center, which includes the Sydney Opera House and Sydney Harbour Bridge, beckons beyond Bondi.
Take a harbor tour, wander through the Royal Botanic Garden, or discover the energetic communities of Darlinghurst and Surry Hills.
Nightlife and Entertainment: Pubs, Clubs, and Live Music
After dark, Sydney comes alive with a diversified and exciting nightlife scene. There are numerous pubs, taverns, and clubs in the city that can satisfy every taste.
Start your evening off with a few beers at a neighborhood bar where you can socialize with locals and take in the laid-back ambiance. Visit well-known nightlife areas like Kings Cross, Oxford Street, or The Rocks for an upbeat evening.
There is something for everyone in these regions, which are teeming with clubs playing various musical styles. If you enjoy live music, the city boasts a flourishing live music culture with venues like the Oxford Art Factory and Enmore Theatre showcasing national and international bands.
Accommodation: Finding a Place to Stay
Finding the ideal lodging is crucial for a relaxing and pleasurable trip to Sydney. You might favor accommodation that is convenient, affordable, and has a lively atmosphere as a single man. Look no further than the excellent build to rent Sydney Olympic Park, for instance.
This contemporary and well-planned apartment building offers chic apartments with all the amenities you could possibly want, including a gym, a pool, and common areas. This location provides quick access to sporting events, musical performances, and festivals. A hassle-free experience is guaranteed by the build to rent option's customizable leasing terms and expert property management.
Sports and Outdoor Activities: Embrace the Adventure
For those who enjoy outdoor activities and sports, Sydney has enough to offer. Participate in well-liked sports leagues in your community or go hiking, surfing, or kayaking. The city's breathtaking natural setting serves as the setting for a variety of excursions.
Visit the Royal National Park, go for a hike in the Blue Mountains, or take a ferry to Manly Beach to go surfing. The city also hosts a number of sporting events throughout the year, including the renowned Sydney to Hobart Yacht Race as well as cricket and rugby games.
See Also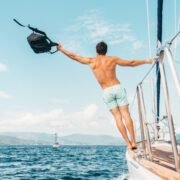 Sports and outdoor recreation keep you active and in shape while also providing opportunities to connect with like-minded individuals.
Food and Dining: Taste the Culinary Delights
Sydney's food culture is a fusion of international tastes. You can enjoy a wide variety of eating experiences as a single man. Discover the thriving food markets to enjoy fresh seafood, regional produce, and handmade goods. Examples include the Sydney Fish Market and Carriageworks Farmers Market.
The city is also home to a large number of eateries, from fast food joints to fine dining spots, with cuisines including Asian fusion and modern Australian. Don't pass up the chance to sample traditional Australian dishes like fish and chips, meat pies, and a barbecue.
And for a special dining experience, reserve a table at one of the city's rotating restaurants, where you can savor delicious food while taking in breathtaking views of the city skyline.
In conclusion, Sydney opens up a world of opportunities for single men looking for excitement, relaxation, and unforgettable encounters.
Sydney is sure to enthrall and leave you wanting more, whether you choose to stay in superbly constructed accommodations, explore the city's historic attractions, partake in the thriving nightlife, engage in outdoor activities, or taste the numerous culinary pleasures. Take advantage of the vitality of the city, engage with residents and other visitors, and develop lifelong memories.

Peter Minkoff
Peter is a men's grooming & fashion writer at High Street Gent magazine from UK. Beside writing he worked as a menswear fashion stylist for many fashion events around UK & AU. Follow Peter on Twitter for more tips.