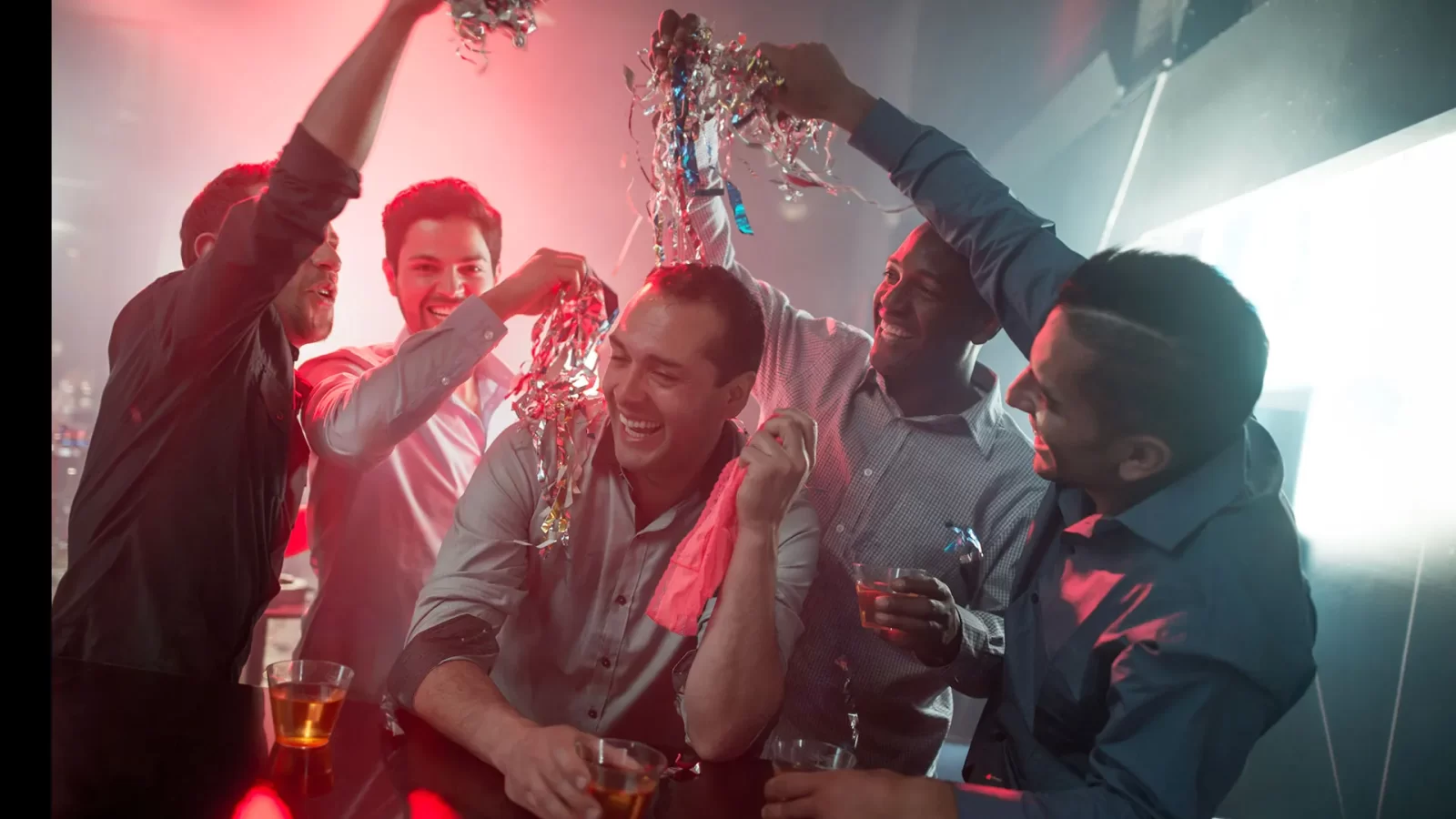 Peter Minkoff
Peter is a men's grooming & fashion writer at High…
Do you want to throw your fallen comrade one last going away party that will have him start to doubt his decision? Maybe that is a little extreme, you want your friend to be happy, but that doesn't mean he shouldn't get a chance to experience the night of his life before retiring from the singles game for good.
Let's look at some of the unforgettable bachelor party ideas!
The Pool Party
A pool party can start in early in the day with a poolside barbecue and end the next morning with someone's stomach being pumped. Make sure to involve as many friends as possible in the organization of booze, red meat preparation, and some loud-ass music!
Start the day with a poolside barbecue under the sun and continue it until you run out of solid food and switch to alcohol in the evening. Have some girls drop by and have yourself a wet t-shirt competition as icing on the cake.
Paintball and Shots
Want to get hurt a bit and enjoy it at the same time? Grab the crew and head on down to the paintball arena, but wait! Don't forget the alcohol, after all the man is getting married, and what's a bachelor's party without carrying the groom home, his ass in bruises and his liver dubious state? Nothing is the correct answer.
There is no quitting in this game of paintball, though. Every time someone gets hit, he has to drink! Rinse and repeat until slowly, but surely, everyone ends up on the floor.
A Legendary Sports Night
If you and the boys are sports fanatics, then there is no better way to organize a bachelor's night than taking your boy to a big game, vodka bottle in one hand, and a foam finger in the other! You can make a sports night bachelor party at your favorite pub where you can get legally wasted, or at home, just make sure you decorate the place accordingly.
Have some cheerleaders drop by to cheer you on as you watch the game and make some golden memories at half-time. Don't forget the spicy chicken wings and a lot of whipped cream!
Fly Out Somewhere
Either make sure your boy is drunk before the flight or get him wasted when you land, the important thing is, you reach a different city or a different country altogether! This is your last chance to splurge on yourself and your buddy before he gets married and starts saving for his kid's college tuitions, so go all out.
Purchase the plane tickets early on to get them for cheap, and fly out to a destination notorious for its nightlife, where you know you will meet friendly people, girls who love to party and alcohol that is so strong, it's illegal in your country.
Unforgettable Poker Night
There isn't much that can top a good old poker night! But not the kind where you only sit around in the dark, smoking cigars and exchanging cards. No, a naughty poker night is more suited for a bachelor's party. If you want the entire poker night set up with professional dealers and an atmosphere to remember, then the girls at  Sydney Topless Waitresses will make sure you have the night of your life.
Just phone the place where you want the party to be held, pick your girls, and let the professionals create a poker night worthy of Dan Bilzerian himself!
Karaoke to the Death

There is nothing quite like humiliating yourself and your buddies by testing your vocal abilities, especially if they're nonexistent. Make sure you're properly tipsy and head on down to a quality karaoke bar to witness the best man trying to perform Bohemian Rhapsody all by himself. Don't forget to film the event, or you'll regret it later!
Have some Extreme Time
Take your buddies out for a whole day of extreme sports that will make the groom's future marriage feel like a walk in the park! Try to avoid drinking alcohol until you're done and headed to the bar, as most clubs and instructors will not allow you to take part in extreme sports while under the influence.
A bachelor's party has to be a night you will remember, and with these ideas, you will give the groom an unforgettable experience he will cherish forever!

Peter Minkoff
Peter is a men's grooming & fashion writer at High Street Gent magazine from UK. Beside writing he worked as a menswear fashion stylist for many fashion events around UK & AU. Follow Peter on Twitter for more tips.