Home » HP ENVY X2


HP is one brand that thrives on innovations and is not shy when it comes to taking on challenges thrown by the market. It was HP, along with couple of other brands little over a decade ago that took it upon themselves to venture aggressively in the laptop segment of the market, which was than considered to be inferior, in comparison to PC's.
And in its latest bid to further strengthen its grip on the consumers who prefer laptops over tablets and PC's, HP recently launched HP ENVY X2 11-G004TU 11.6, a notebook that packs a punch!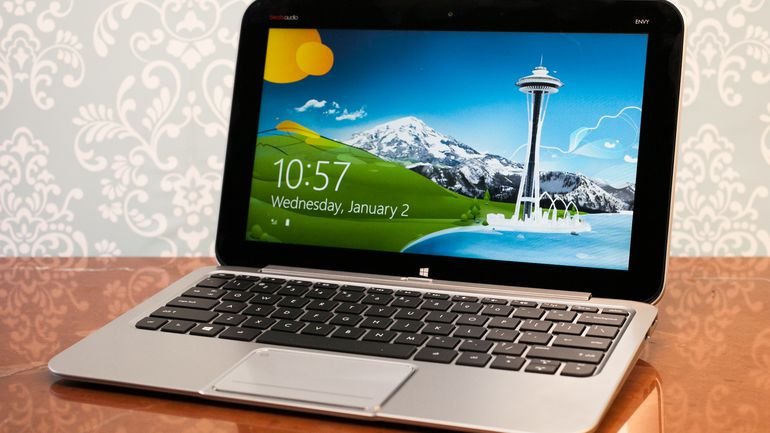 Comfort at your disposal
HP Envy Spectre is a perfect stalwart for users who have mobile life and has portability as the single biggest consideration while buying a new gadget. Light weighted at just 1.39 Kg and only 690 grams for the tablet with a 11.6" screen and a 64 GB solid state Hard drive makes it a ultra luxury product that is high on performance and has un-matched looks. Dare we say, it sure gives an impression to be 10% laptop and 90% tablet- such is the ease that it offers you.
Speed in your hands
This HP laptop, with an Intel Atom Dual Core-Z2760, 1.8 GHz processor and 2 GB DDR3 RAM will make sure that you can do multiple tasks like chatting, virus scanning, working on important documents and of course downloading heavy files-all at the same time without the machine acting funny or huffing and puffing on you.

High on technology
The Windows 8 32 bit OS makes computing a breeze for you. Some of the other features include 64 GB SSD, 802.11a/b/g/n Wi-Fi, Bluetooth, 2 Beats Audio internal speakers, full-size island-style keyboard, HP Imagepad ( image sensors built-in for accurate multi-touch gesture support) and 2 USB v2.0. We absolutely fell in love with the TrueVision 1080p HD webcam that allowed us to chat with our pals in amazing clarity as if they were sitting right in front of us- isn't that an amazing feeling even to imagine?
Amazing touch display
HP ENVY X2 11-G004TU comes with a 11.6" LED Backlit wide screen offering best of the display services, which is well supported by 1366 x 768 HD (720p); 16:9 aspect ratio, 400 nits brightness and in-plane switching panel technology- designed to solve the main limitations of TN-effect matrix LCDs, such as slow response time, strong viewing angle dependence and low-quality color reproduction.
See Also

X-factor
Looking for something more? Slide a latch and the anti-glare LED IPS display can be easily detached from the keyboard and volla, you can use X2 as an independent Windows 8 tablet. Unlike competing products, the x2 combines magnets and a mechanical latch to keep the tablet from falling out of its dock. There's an optional stylus too, that allows you to enjoy the freedom to work your own way. Feel free to write, draw and navigate in more detail without leaving fingerprints or smudges that can make the screen look dirty.
What we think
There can be nothing better then to get the best of both the worlds- the traditional keyboard as well as a touchscreen (especially when it runs like melted butter on a hot pan). Targeted at the high-end consumers who likes the strength of a notebook and comfort of a tablet- this is one device that we expect to do well in the market.
Price: INR62,307*