Millennials, as they say, is a different breed altogether.
Free from the prejudice of yesteryears and devoted to making their life better- now and for tomorrow!
And it's not limited to skillsets in professional fields, or clothing, or shoes, or living a certain lifestyle, it has come down to living a fit life.
However, thanks to the packed schedule of one's life, not all can go hit a gym daily and sweat it out. So, what are the alternatives?
Well, those who can't go to the gym, make sure that they eat clean, keep a count of their calories, walk up the stairs instead of taking elevators and have a steady heart rate. And the easiest way to keep a track of all of it, with minimum fuss is – embracing a fitness band or fitness tracker in life.
But with a plethora of options to choose from, it is very easy to get confused, isn't it?
What would help you make a wise decision though is having a clear-cut idea of what all functions you need in your fitness tracker. Once that thought is clear, there remain no further complications.
Having said that, I thought I would go ahead and put forward five of the best fitness trackers that are available in the market at a budget price. These would offer you most of the things that you would need in your fitness tracker while keeping the style quotient in check too.
Mi Band – HRX Edition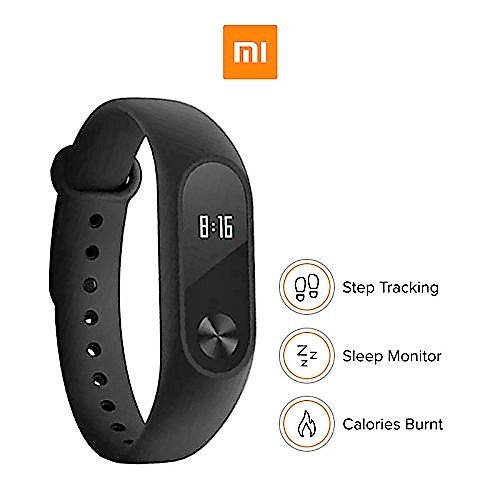 Equipped with an OLED display, simply lift your wrist to view time and tap the button for steps, distance covered, and calories burnt. The improved pedometer algorithm filters out unnecessary movements.
Idle alerts send a gentle buzz when you have been sitting idle for too long and tell you when it's time for a short walk.
When you are close to your Android smartphone, it unlocks your smartphone instantly, as it carries your unique identity. Rinse hands or shower with Mi Band – HRX edition without any worries. as it is durable and resistant against water splashes, sweat, cosmetics, dust and more.
Price: 1599
BUY HERE: https://amzn.to/2Ttin1b
GOQii Fitness Tracker with Personal Coaching

GOQii is India's largest selling fitness tracker with the highest market share in wearable industry (Source: IDC). Tracks your heart rate, daily steps, calories burned, distance covered, active hours and sleep pattern.
To add to it, get WhatsApp, SMS, email and call notifications on a large OLED display through Bluetooth.
But hey, there's more!
In GOQii family care plan you get a personal coach for the subscription period and 12 months validity for expert and doctor consultation for your selected family members.
Price: 1699
BUY HERE: https://amzn.to/2OUIz17
 Amazfit Cor Fitness Band (Charcoal Black)

The Amazfit Cor is a comprehensive fitness tracking band that combines durability with a sleek and minimalistic design to help you stay active and informed all day long.
Take it all in: The Amazfit Cor's attractive display makes tracking your progress – and achievements – fun and easy, the Cor features a bright 1.23 inch curved IPS color LCD touchscreen with Gorilla 3 glass and anti-fingerprint coating.
Automatically track your daily steps, distance travelled, calories burned, heart rate, and sleep quality, special sports modes (running, treadmill, cycling and walking) give you even more detailed insights into your most frequent activities.
Price: 3,999
BUY HERE: https://amzn.to/2PHrzAU
Riversong Wave O2 Colored Smart Band

In this one, you get a blood pressure monitor, heart rate monitor, Sp02 monitor, activity tracker, sleep monitor and much more. A sleek piece of technology, this one is worth the money it is priced at.
Price: 1,999
BUY HERE: https://amzn.to/2TvABiQ
 MEVOFIT Bold HR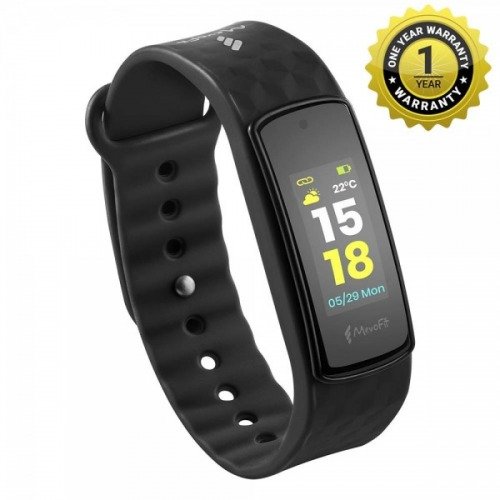 MevoFit Bold fitness tracker watch is designed especially for athletes and sports enthusiasts.
It is a water resistant (IP 67) activity tracker which keeps a close track of your steps, distance, running, calories burned and active minutes. You also get activity Tracker, fitness tracker with heart rate, big colour display & gesture control.
Add to it, calls, SMS, WhatsApp, FB, Twitter, Gmail, Skype, & other notifications and you have an eye-catching product to brag about.
Price: 3,490
BUY HERE: https://amzn.to/2DPU1tR