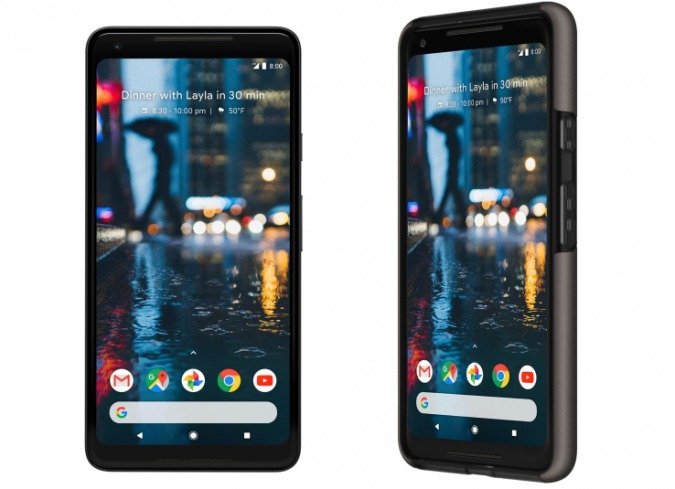 >The two new Google phones under the Pixel series are no-nonsense smartphones, with amazing build quality and top-notch camera performance.
This new breed of Google's flagship will have a direct combat with Apple's iPhone X and 8 series, the Samsung Galaxy series of S8 and note 8, along with Sony's Xperia XZ1 and the LG V30.
Google Pixel 2 and Pixel 2 XL are packed with the latest core features and specifications, with similarities to their predecessors.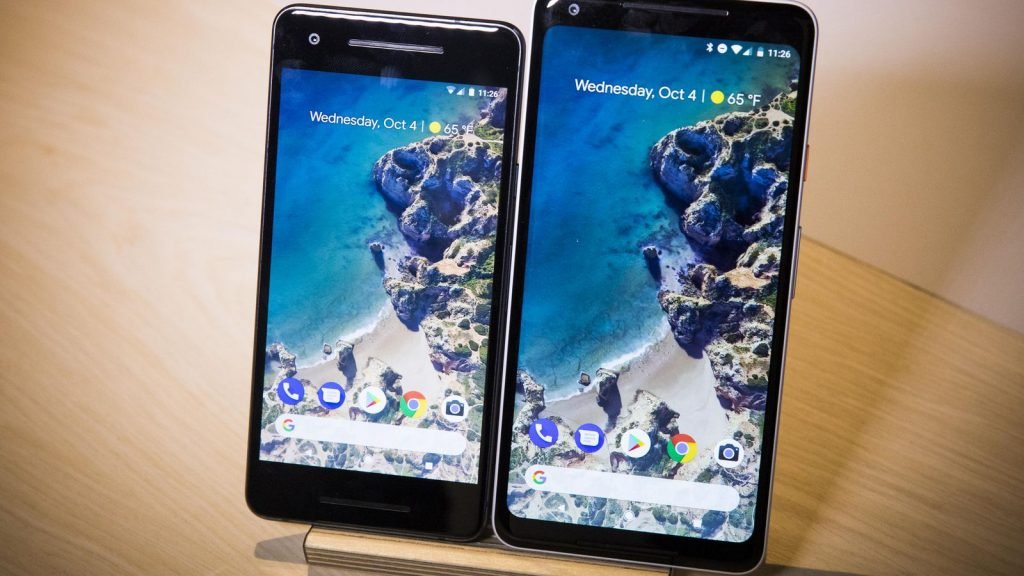 Both the devices are powered by Qualcomm's latest Snapdragon 835 chipsets and have 4GB RAM with two storage variants of 64GB and 128GB (non-expendable). Both devices have IP67 ratings, that suggests durability against water and dust. Both siblings feature an aluminum unibody and run on latest version of Android 8 Oreo, embedded with a fingerprint sensor at the back.
Buy discounted Google Pixel XL (Quite Black, 128 GB)

The designing of Pixel 2 is more practical for everyday use, whereas, the XL version is for those who love to flaunt their phone. Pixel 2 is packed with standard 16:9 ratio full HD panel, and the XL boasts of a trendier 18:9 QHD display.
Learn, How To Make Your Smartphone Fast And Secure
DESIGN
Comparatively. Google's Pixel 2 and Pixel 2 XL doesn't have curves on the sides, no shiny glass, has no notch on the screen, and unlike Samsung Galaxy S8 and iPhone, there are no visible antenna lines on the Pixel aluminum unibody.
Google has followed the footsteps of Apple by ditching the 3.5 mm headphone jack, however, the Pixel 2 and Pixel 2 XL include a dongle in the box.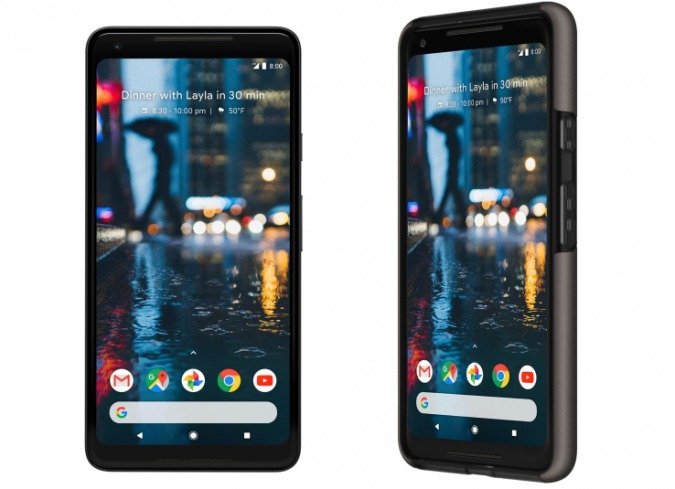 On both Pixel 2 and Pixel 2 XL there are no camera bumps as both the devices have slightly raised ridge around the camera lens. Google this time has offered multiple color choices, three color variants for Pixel 2 and two-color variant for the XL.
 CAMERA
The most important feature of Pixel siblings is the camera performance, which might turn out to be a huge buying factor for most of its buyers. Google has claimed it can top the best in class low light photography compared to the previous Pixel, which can ideally beat out the fine detail quality.
Read About – Google Launches 'Babel Fish' Translator Earphones
The Pixel 2 has a 12-megapixel camera with a f/1.8 aperture supported by optical image stabilization. It has a special sensor in the rear camera, which can take soft background images like the portrait mode of the iPhone's, without having a secondary camera. Google has also introduced the latest feature called Motion Photos, which is like that of Apple's Live Photos, including optical and electrical image stabilization that makes videos smoother.

 HARDWARE
Both Pixel 2 and Pixel 2 XL are identical except the size and the type of screen, battery size, and the hardware design. Else, both devices have same processors, cameras, and dual speakers.
The processor used in Pixel 2 and Pixel 2 XL is of Qualcomm Snapdragon 835, 4GB of ROM, available in two storage variants 64GB or 128GB, 12.2-megapixel rear camera, f1.8 aperture lens, optical and electronic image stabilization, 8-megapixel front camera, f/2.4 aperture lens, no wireless charging, no headphone jack and USB Type C headphone dongle in the box.
If you are a digital marketer, then you must know – How To Best Use Push Notifications
Pixel 2 – Battery 2700mAh, 5-inch Full HD AMOLED, 100,000:1 contrast ratio, weight 143 grams, thickness 5.7 x 2,7 x 0.3.
Pixel 2 XL – Battery 3520mAh, 6-inch 2880 X 1440 pOLED, 100,000:1 contrast ratio, weight 175 grams, thickness 6.2 x 3.0 x 0.3.

VERDICT
The original Google pixel managed to be one of the most innovative cellular phones of 2016, but lacked an attractive design, though it had a stunning camera.
The pixel 2 XL has been significantly redesigned, but the Pixel 2 looks very familiar. Pixel 2 is slimmer and compared to iPhone 8, it's comfortable to hold and single hand usage is easy, which sets the Pixel 2 apart from other larger Android devices.
The Pixel 2 XL is indeed a much more interesting device to look at, but apart from the design, the Pixel 2 isn't much behind from features prospective.