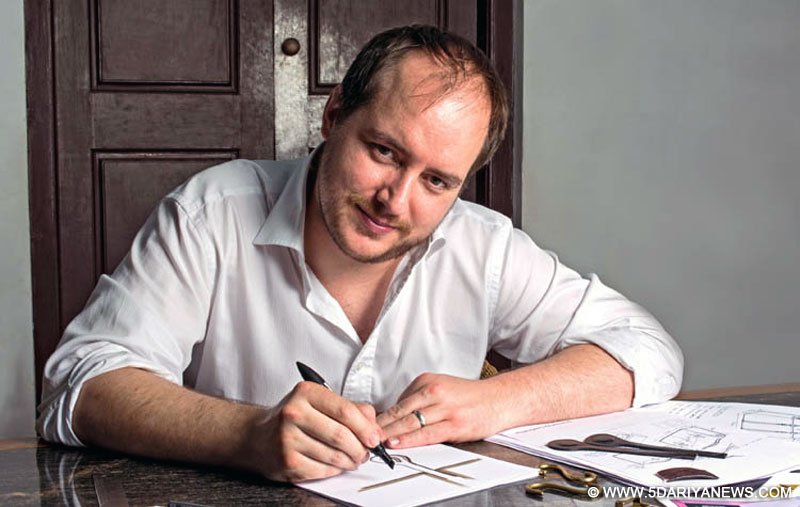 In 1977, Dilip Kapur; President of Hidesign returned to Auroville, Puducherry and hammered his first leather bag sitting with an artisan for nothing more than to kill the feeling of boredom. And today, Hidesign dishes out a wide range of products, including briefcases, travel bags, handbags, backpacks and accessories such as belts, jackets, and wallets and rest is a part of the history.
But the person we are going to talk with here is, Fabian Lintott, who is based out of London and is the lead designer for the brand's men's accessory line.
 SR – First thing first, how is India treating you so far?
FL – India and Hidesign are treating me very well, thank you! There is lots of work to do and it's great to be here and get fully immersed in it.
SR – What is it about this country that excites you the most?
FL – I have to be honest, I love coming here. The vibe of India is always electric and contagious. There is a real sense of the way the country is changing and developing which is exciting to me as a designer! It is always an inspirational experience to be here in the factory, on the home ground of Hidesign. As a brand that understands quality leather, pays attention to details and lays emphasis on handcrafting, I am positive my work with Hidesign is going to excite India as well!
SR – Please take us through your SS'13 collection in terms of color palette, inspiration and fabrics.
FL – There is an exciting new collection at Hidesign, due to hit stores imminently. There are three main themes in this collection which provide the basis of the inspiration behind the ranges- The great Gatsby and the 1920's, the essence of Africa and elements of military and 50's style.
A few stand-out pieces in my mind are: Harrison, a range made from our sumptuous Siberia leather with a contrast trim. This range has the added luxury of having leather lining which propels this range to supreme luxury. Harrison is my must have! This range was inspired by the great Gatsby and the 1920's and truly captures the opulence of the period. Kurt, using our premium Soho leather with a contrast in our more rugged leather called Camel. This collection inspired by the essence of Africa will be the perfect companion work or play. The nature of the camel leather is such that it improves with wear. For the classic look I would choose the Elton work bag, which has a structured top handle. Inspired by the briefcases of the 1940's it is a structured look that would give your work wear the sharp classic twist it deserves.
Think Gregory Peck and Humphrey Bogart, smooth sophistication. All styles are made using our exquisite vegetable tanned leathers and are young-at-heart with a strong sense of independence.
SR – And who are your target consumers in India?
FL – The ideal Hidesign customer is likely to be between 25 and 40. We find that Hidesign is increasingly finding a home with career aspirants and fresh graduates as well. While the values of the brand align wonderfully with individuals in alternate professions like media industry, fashion, art, education and home makers alike, Hidesign has always been a top favorite with working professionals.
SR – What do you think works well for Indian men when it comes to accessories? And how has it evolved over the years?
FL – Briefcases and dispatches are the go-to styles for Indian men. They are great styles that have everyday versatility. Over the years, men's accessories have evolved to include the more casual styles and at Hidesign, we have gradually seen a greater acceptance of these bags and we make them a regular part of the seasonal collections.
SR – How do you go about touching the taste of the Indian consumers, while based out of London?
FL – It is important to stay true to the brand. I try to keep the brand in mind with all that I do. This in turn helps me communicate my ideas to our customers. This focus also helps us create a product that works both in India and across our international markets. I feel that my partnership with Hidesign and international understanding of fashion have given me a great platform to work.
See Also

SR – What according to you is the fundamental difference between a western and Indian man, when it comes to adapting to fashion and accessorizing themselves?
FL – Over the my past six years of creating men's collections at Hidesign, we have progressively edged the collections to become more urban, interestingly designed with many small details, absolutely high on function and ready to hold your laptops, tablets and ipods. But deep down, I don't think there is a real difference between the Indian market and the rest of the world. We may have different cultures but our desires are much the same. We want to be respected for our choices. We want our purchases to make us feel good and our bags/accessories must continue to grow into our lives. So, we are intrinsically linked to our products which evoke the memories of the journey we have taken. The items we buy express the person we are, in a way that makes us feel good about ourselves.
SR – Indian customers are known to be a little high-headed, or so is the perception. What do you think has worked well for you and Hidesign, considering, it is one of the most sought after accessory brands in India and abroad?
FL – I think our customers appreciate the values of the brand, like the ecologically sensitive processes we adopt and the high quality handcrafted products. It is really something that I enjoy working on as a designer and the love of good quality can be seen in my products. Plus our attention to good design and detail. We are also a brand that has evolved with India's growth and that can be seen in the growth of our consumer profile.
SR – What's your take on the Indian fashion retail market? How good or bad is it?
FL – In my mind India's fashion market is an extremely exciting place to be at the moment. It's a market that is growing and finding its feet. It's a great time to be a designer and work in partnership with Hidesign.
SR – Any tip-off for the fashionistas of India?
FL – You have to be true to yourself. I wouldn't say there are any complete no-no's. As long as you're comfortable with your style, no one else really matters. Look out for colors and patterns to experiment with this SS '13. Textured surfaces and color blocking will continue to work their magic.