Bruno Aunty
A 70-year-old sassy lady who has got the class and…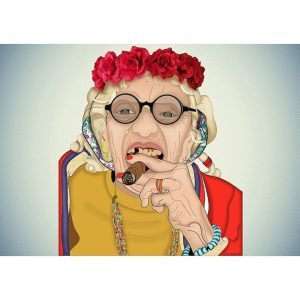 Hello, lovelies, it's been a while since I wrote, but I am sure you understand the reason behind it. A 70-year-old naughty woman who has so much on her plate to take care of, can be allowed to go missing once in a while right?
Honestly speaking, I have been indulging in a lot of TV time recently and guess what, I have also started to contribute as a consultant to an online news agency- MNC if I must add, besides StyleRug, and this new place has got some real spice to it. I will share all about it with you guys in the coming weeks and trust me some of it is a real bitch-deal. Some nasty asses over there which you must know about.
Yes, Yes, Yes, I will be more regular now on here, and will make sure that you do not even dare to forget me 🙂
As I told you, I have been watching a lot of TV recently, and ended-up watching Pyaar Ka Panchnama- 1, I could so relate to the whole theory of guys believing that they have found the right girl; albeit not for long! I mean, most of them ticked all the right boxes in the list. But alas, it so did not work out too well for them, did it?
And then I saw the movie 'What Women Want', and I couldn't help thinking… jeez, do men really not know what women actually want? To no surprises, my thinking went wasted and I came to one decision; guys will never know what women want- because damn, women themselves do not know what they want-errr!
But what they do know, or should know, is what kind of women they do not want.
And what is what I am going to share with you today.
The kind of women, you, you, you, you, and you… all of you should stay away from!
The Mommy Types


Yes, every woman has maternal emotions innate in her, but we are not really looking for that are we? We are looking for a girlfriend, not a mother. This type of girl will become your mum in no time; telling you what to eat, when to eat, why not to eat certain things, why not dress-up in a specific way, and even when you should use the loo and for how long!
I mean really?
They are bound to have problems with your messy closet, shaggy jeans and long beard. Basically enough to make you go crazy! You will lose the humorous side of yours in no time, and everyone knows why humour is necessary for a relationship.
The Gold Digger


No matter what she says, but a gold digger is not there for you, but for your money. She would want gifts, trips, fancy dinner dates, and anything else that money can buy. And not for once, will she take her own credit/debit card out to pay.
Remember, Pyaar Ka Panchnama 2? The girl maxes out the credit card of her boyfriend and the moment he wants her to help him with money, she shows her ass! Now, not that you would see it for the first time, but this ass-showing is of some other way, and no, you can't even spank it to get some fun out of it!
She will make sure that she burns your credit card to its limit, and have no role to play when it comes to paying the bills.
Want to know how to figure these ones out? Well, just stop gifting and taking her out for a month or two, ask her to pay bills if you do, and you will get your answer soon!
Don't say later, that Bruno Aunty did not warn you about this.
DID (Damsel in Distress)


There is nothing worse than the girls who are carrying the weight of the past relationships. And DID is just that!
As much as you would want to be a knight in shining armour for your girl, it can be a really tiring job! One, which would never let you be at peace!
The DID will need or demand your attention every single moment and would want you to rescue her from every messed-up situation in life; well, even for a chipped fingernail.
Trust your Bruno Aunty, it isn't worth it!
So, boys, if I were you, I would definitely be away from these three types of girls. But, if you still dated one of these, then- you are just not my kind of guy!
And that means, you are just an ignorant boy, not a man of class!

Bruno Aunty
A 70-year-old sassy lady who has got the class and the mass, that even your 19-year-old girl would feel jealous of. I am Miss Bruno, but you will call me Bruno Aunty!