From a family of educationists, an English Literature graduate, skillful theatre artist, a writer, and eventually a diversified and acclaimed actor at the B-town. Tisca Chopra is everything,that a woman would want to be and what a man would want her woman to be.
In a career spanning over two decades, which is actually hard to believe considering the finesse that she still has after all these years, Tisca has been a part of some breakthrough movies (Taare Zameen Par, Firaaq and 10ml love to name a few) that could easily be termed as one of the all time greats in the Bollywood history; commercially and critically.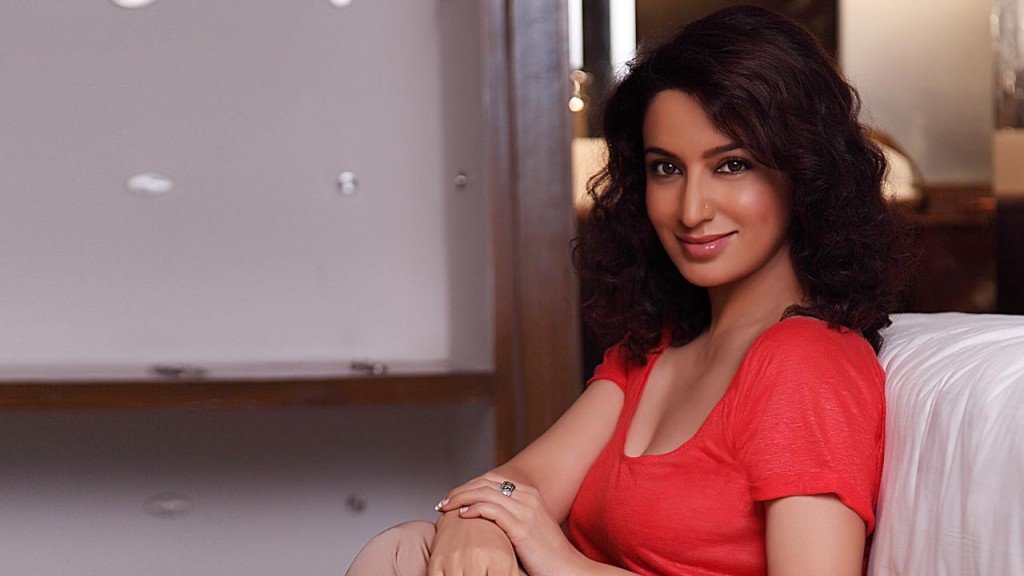 Awe struck by her 'Oye' in the new Tanishq's ad, we got a chance recently to have a one-o-one candid chit-chat with the lady herself, as she talked about her life, work, and much more.
Here are the excerpts…
SR – How has life been recently? What is keeping you busy?
TC – Its been a hectic year end… my husband, Sanjay Chopra, who is a pilot just released his book, 'Talespin' and I've just wrapped up "Ankur Arora Murder Case", a film produced by Vikram Bhatt.
SR-You have chosen the most unusual roles to play from Platform to your current projects, which role has stood out for you?
TC- Its a bit like asking which of one's kids is a favorite…I love them all, that's why I did them. But I guess Taare Zameen Par gave me the most recognition.
SR- You are heavily into Buddhism, you are a master… what does this aspect of your life bring to you and how does it balance out the other aspects of your life?
TC– There is no such thing as a master. I'm only a senior by virtue of the fact that I have been practicing for a long time. Self mastery, which is the goal of Buddhist practice, takes a lifetime if one is lucky and often longer. I am on the path, is all I can say!
Buddhist practice provides a sharp tool for self analysis and improvement. I hope that I can, by growing degrees bring this change to all areas of my life.
SR- Considering ours is a fashion blog, define fashion for you?
TC- It has to be two things for me- comfortable and occasion appropriate. I work closely with my stylist and dear friend, Sonali Mansingka, for most of my going out looks. She truly gets me and keeps pushing me to try new things.
SR- In Dil Toh Baccha Hai Ji, your look was very different with the skirts and dresses, was it your conscious choice to change your look especially after Taare Zameen Par?
TC- Of course it was!! Its like asking a singer to sing in one note… I was keen to step out of the giant image Taare created. I was very self conscious to start out with but eased into the role and Madhur really took great care. I am very happy with the outcome of that film.
SR- What are the five essentials in your wardrobe?
TC- Five is too little, but if I must- a well cut white silk shirt, an LBD, a pair of well fitting jeans, nude Louboutins and a great day bag.
See Also

SR- What is a attire that you'll never be seen wearing publicly?
TC- Leggings… just can't bear them.. no matter how cool, unless Chanel or Lanvin make them. Then maybe I'll wear them for a bit..
SR- As you told earlier, your husband's book got launched recently, tell us more about it.
TC- It just came out, its called 'Talespin'. It combines history, fantasy and cuts a wide arc through time and space. There are fourteen short stories of which I believe at least ten lend themselves to film, not specifically Bollywood but more like 'Life of Pi'. They are very international. Harper Collins has published the book.
SR- What is that one thing in life that has always kept you going?
TC- I truly believe that you can do anything that you resolve to do, I have total and absolute faith in human ability! I set high goals for myself and am not easily satisfied with a casual approach. I love detail in everything..clothes, food, cinema, music… for me God is in the detail!!
SR- What are the projects you are working on currently?
TC- 'Qissa', an international film with Irrfan is out in the first quarter of 2013 and so is 'Ankur Arora Murder Case'. Then I start a new film, a thriller with Neeraj Pandey's company.
SR- If we are not wrong, you are the grand-niece of Khushwant Singh, any witty side to the graceful you that we don't know about?
TC- Khushwant Singh is my mum's uncle, yes.. There are several sides to me, and graceful is not one of them! A tomboy, a comic and often a world class fool, who thinks with her heart not her brain.