https://www.stylerug.net/in-news/snoop-dogg-launches-dr-bombay-ice-cream/
Paul McCartney is set to unveil the untold stories behind some of his most iconic songs in a brand-new podcast titled "McCartney: A Life in Lyrics."
Throughout the podcast's first season, McCartney will delve into his musical journey, from his time with the Beatles and Wings to his successful solo career.
Each episode will revolve around a single song, including classics like "Eleanor Rigby," "Let It Be," and "Live and Let Die," among others. Accompanying him in these discussions is poet Paul Muldoon, who also wrote the foreword to McCartney's bestseller, "The Lyrics: 1956 to the Present."
The podcast will feature 12 episodes in its first season, all available for streaming at once for Pushkin+ members on its premiere date, September 20. For fans without a Pushkin+ membership, the first episode will be accessible on iHeartRadio, Apple, Spotify, and other podcast platforms on the same day, with subsequent episodes releasing weekly.
In a trailer for the podcast, McCartney expresses his aspiration to be recognized as a songwriter, with his life wholly immersed in music.
Muldoon reveals that, over the years of scrutinizing McCartney's lyrics together, they came to the realization that "The Lyrics" book could essentially function as an autobiography. The songs held themes dating back to McCartney's childhood, presenting a nostalgic journey through his life's milestones.
See Also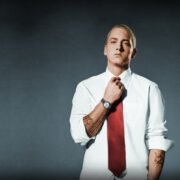 In addition to the previously mentioned songs, Season One of the podcast will explore episodes dedicated to "Back in the USSR," "When Winter Comes," "Penny Lane," "Uncle Albert/Admiral Halsey," "Here Today," "Magical Mystery Tour," "Jenny Wren," "Too Many People," and "Helter Skelter." As a follow-up, Season Two will be released in February, featuring in-depth discussions on 12 more of McCartney's songs.
According to Muldoon's prologue in the podcast, their conversations contain something truly special – a raw and unfiltered side of McCartney's creative process.
Additionally, this fall, Paul McCartney will fulfill his dream of becoming a paperback writer with the release of the softcover edition of "The Lyrics: 1956 to the Present." The paperback will include bonus commentary that wasn't part of the original edition, covering songs such as "Bluebird," "Day Tripper," "English Tea," "Every Night," "Hello Goodbye," "Magical Mystery Tour," and "Step Inside Love." Fans can look forward to the paperback's arrival on November 7.

Sandeep Verma
One of my friends once said, I am in love with words and a zoned out poser... well, I will keep it the way it has been said! Besides that you can call me a compulsive poet, wanna-be painter and an amateur photographer