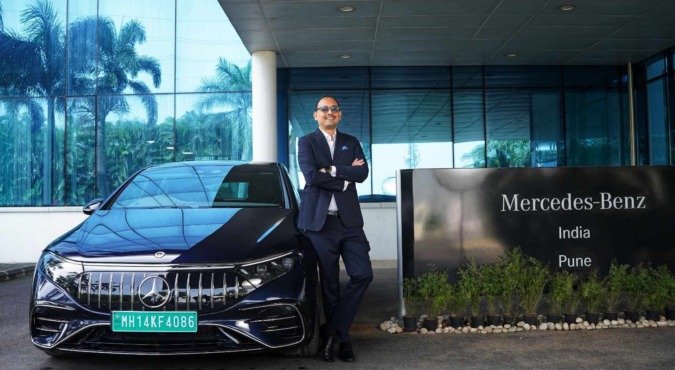 Mercedes-Benz, India's premier luxury car manufacturer, is poised to achieve a significant milestone by selling more than 1,000 electric vehicles (EVs) in 2023.
This achievement would constitute nearly 5 percent of the brand's total sales for the year, signifying an impressive growth rate of over 100 percent in the realm of Mercedes EVs, albeit starting from a relatively modest base.
In the luxury automotive market, the share of EVs surpasses that of the mainstream market by a notable margin. This phenomenon can be attributed to three primary factors:
Higher Disposable Income: Customers in the luxury segment typically possess greater disposable income, making them more receptive to premium EV offerings.
Enhanced Range: Luxury EVs often offer extended driving ranges, addressing concerns about distance capabilities and making them more practical for daily use.
Reduced Price Gap: The price difference between internal combustion engine (ICE) vehicles and their electric counterparts in the luxury segment is comparatively smaller, making the transition to EVs more enticing.
Mercedes-Benz's commitment to electrification is unwavering, with the recent launch of the EQE serving as a testament to this commitment. Notably, the EQE is priced only 10 percent higher than its ICE variant, reflecting the brand's dedication to making EVs accessible and attractive to consumers.
Santosh Iyer, Managing Director of Mercedes-Benz India, emphasized the irreversible shift toward electrification. He acknowledged that while there were initial doubts about the future of EVs, they have now become an emerging reality embraced by society.
Iyer observed that people express a desire to own an EV, yet there are lingering hesitations. Many individuals are inclined to say, "My next car will be an electric," reflecting the recognition of EVs as the future of mobility. However, there remains a question as to why more consumers are not making the switch today, despite the availability of compelling options.
Mercedes-Benz is actively addressing concerns such as range anxiety by expanding its charging infrastructure, offering assured residual values, and providing an industry-leading 10-year warranty. These efforts aim to create a seamless and hassle-free experience for EV adopters.
While Mercedes-Benz acknowledges the potential for rapid EV adoption in the premium segment, the company prioritizes patience over volume chasing.
Iyer emphasized that their customers serve as trendsetters who influence their peers and family members. Therefore, Mercedes-Benz focuses on equipping their vehicles with top-notch features and maximum range to meet the discerning expectations of their clientele.
During the first half of the current calendar year, Mercedes-Benz recorded approximately 450 EV sales, a number that could have been higher if not for supply challenges with the EQB model.
With a diverse portfolio of four electric vehicles across various price points, Mercedes-Benz is poised to cater to a broader spectrum of customers.
Looking ahead, Mercedes-Benz envisions a fully electrified global lineup post-2030, with India's adoption rate expected to be more gradual. Nevertheless, the brand anticipates its market share to surge nearly fivefold to 25 percent within the next three to four years.
To foster a deeper understanding of EVs and raise awareness, Mercedes-Benz has converted the vehicles of its top executives to electric. Starting this month, the top 30 CXOs will transition from internal combustion engine cars to zero-emission vehicles.
Additionally, Mercedes-Benz has made its 140 fast-charging stations accessible to non-Mercedes EVs, further contributing to the acceleration of EV adoption in India.
Iyer expressed confidence in India's automotive landscape and affirmed that ICE powertrains will continue to play a pivotal role. Mercedes-Benz is committed to offering customers a wide range of options, including petrol, gasoline, clean diesel, and electric vehicles. The brand's mission is to provide choices, educate consumers, and facilitate the gradual transformation of the market towards sustainable mobility solutions.