Home » How To Conquer Facebook Marketing
How To Conquer Facebook Marketing


Talking about social media world we are living in, it is everywhere around us. One moment we are using Facebook and the other moment we are on Twitter or some other app like Pinterest, Instagram and Snapchat. Social media platforms have a massive presence of online users.  And this has turned these into platforms which have huge potential in terms to disseminate information to a larger section or in other way round to get the public know about the product or services we are offering as a business.
But game changes when it becomes business page rather than a personal profile. And to name every single social media platform we have, has its own set of rule to conquer the platform be it Facebook, Twitter, Instagram or any other Social media platform.
When it comes to promoting the brand and do the marketing for it on the digital platforms, we need to have the set of rules.  Facebook has its own arena, and has its own rules and regulations to stay in the race.

Facebook is a much changed medium in comparison to what it started with. It has grown bigger and still growing.  There are pages, groups and ads to look for the marketing thing. But to make the maximum utilization of the medium varies on several factors. When you have idea of the Facebook tools, you need to use it to the maximum to get the best return on investment from Facebook marketing. There are some strategies and rules to be followed for marketing strategy for Facebook.
Awareness about your Target audience
Knowing  your target audience on a specific social media platform like Facebook is necessary to go ahead with the marketing plan. There comes the role of Facebook demographics and the brand intelligence about customer's profile which will help you to know where your target audience would be.

Facebook audience insights further helps you in getting the minute details about your target audience. This is really helpful when you need to determine what kind of content would be the effective for your business.
Selling should not be on priority
Facebook algorithm was changed at the end of the year 2015, favoring the brand content, rather then content that drive sales and thus it changed the way a post should be posted. Facebook wants the post should have the content that can be seen, read, liked and shared by the online users of the Facebook. So a post should not directly aim to sell. Post the content that helps the brand to put in front of the new eyeballs and extend the brand awareness on Facebook
Content is the master of all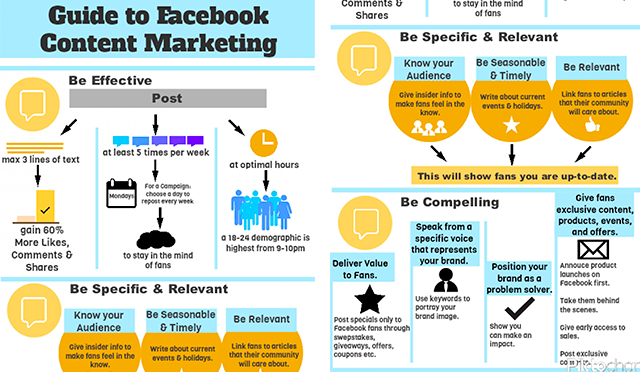 Facebook post should should engage the audience and encourage them to participate in your Facebook conversation and help the brand by sharing the content. Content of posts should update the consumer and let them help the word.  In order to get the maximum reach, the post content is the most important thing. On Facebook, here are four ways to present your content i.e. Videos, pictures, link and text.
As per the study of Socialbaskers, video is the most engaging content followed by the text, links and pictures. Before posting, do invest your time to analyze your audience and its behavior towards your business. Another thing to keep in mind is that post the data that would have the interest of public. The post should be catchy and should grab attention of your audience from first three to four words of the post. Online users have less attention span, so it is wise to maintain the content of post succinct and useful to the user.
It is also advisable to respond on the post. It is not fair on your brand image if you are not responding on your posts if there is anything asked by the user.  You need to be frequent in terms of reply if any conversation is started under your brand page
Pinned post helps in a long way
A pinned post shows always at the top of your business page and would not come down even if you post any new content.  And thus it helps your potential followers to like your page. If you want to share some information regarding any campaign or activity, you can pin it and let the users know about it.
See Also

Home » How To Conquer Facebook Marketing
Space out your post
Facebook posts should be done at regular intervals. Post has the chances to make it to the top when your target audience is the most active. Some research is to be done to know the behavior of your target audience.  In general,  the research concludes that the most appropriate time to post on Facebook  is Thursday or Friday  in afternoon 1 to 3 PM.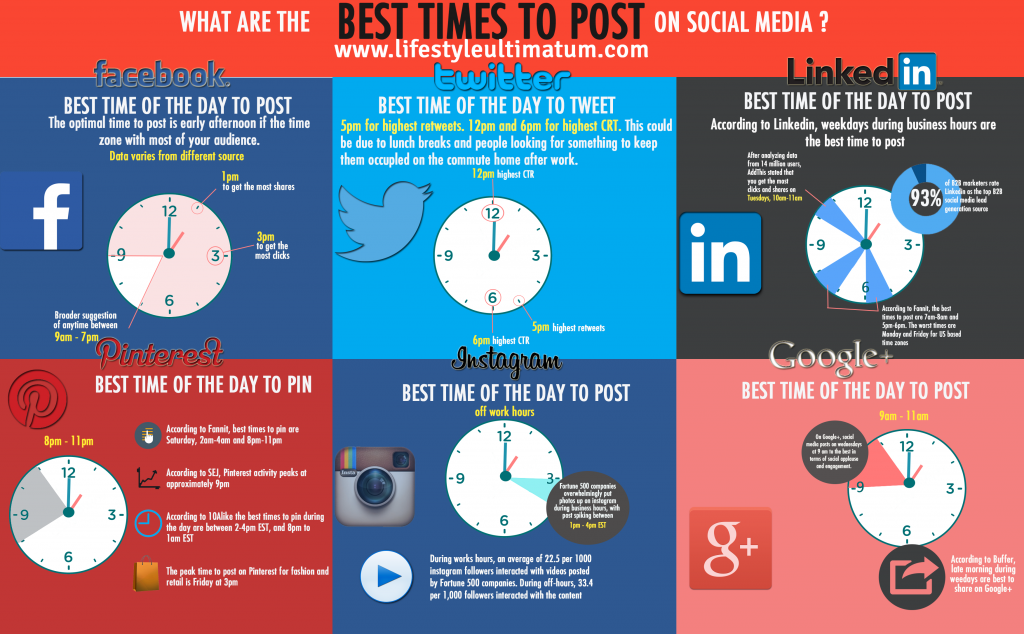 Make a plan for your Facebook posts and create a road map for covering number of topics. For e.g. if you are in the fashion industry, you need to post updates about the fashion vogue and all. Make a content calendar and assign what to post on different days of the week.
How to use Hashtags on Facebook
Hashtags is not the sure shot formula to get the maximum number of views. Because on facebook, post without hashtags perform better than the posts with hashtags. So you need to consider the use of hashtag to do the branding on facebook. Some brands do use Hashtags because they are synonyms with the brand.
The Author of Article is Omm Dev Sharma, Director, Maverick Digital
You might like these articles too: 5 Most Annoying Fails in Marketing Pinterest Auction Ads – Here's How It'll Affect You! How To Master Digital Marketing Skills!