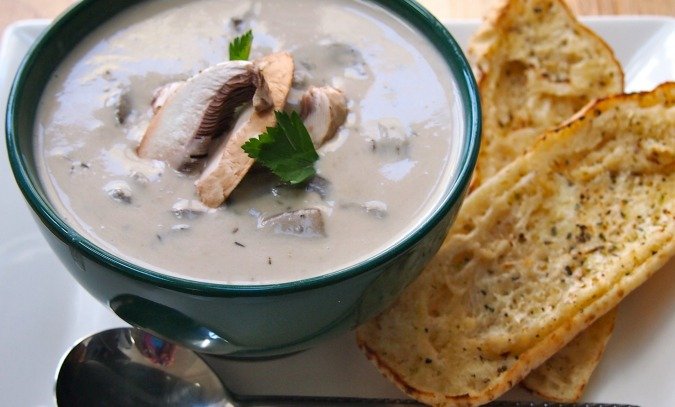 Meher Sethi
A poetess and an inquisitive soul, Meher is currently finishing…
Chef – Ajay Thakur, Corporate Chef, of Cafe Mangii, shares some of his best food recipes for the food-lover(s) in you!
Apricot Glaze Chicken


Ingredients
3 tablespoons apricot preserves
2 tablespoons red wine vinegar
1 1/2 tablespoon extra-virgin olive oil
1 garlic clove,
2 bone-in chicken breast halves, skinned
2 bone-in chicken thighs, skinned
2 chicken drumsticks, skinned
1/2 teaspoon fine sea salt
1/4 teaspoon freshly ground black pepper
Cooking spray
 Preparation
Combine first 4 ingredients in a small bowl, stirring well.
Prepare grill for indirect grilling. If using a gas grill, heat one side to medium-high and leave one side with no heat. If using a charcoal grill, arrange hot coals on one side of charcoal grate, leaving the other side empty.
Let chicken stand at room temperature for 30 minutes. Sprinkle chicken evenly with salt and pepper. Place chicken, meaty sides down on grill rack coated with cooking spray over direct heat, grill 5 minutes or until browned.
Turn chicken over, baste with apricot mixture. Grill 5 minutes over direct heat or until browned. Turn chicken over, moving it over indirect heat, baste with apricot mixture. Cover and cook 15 minutes. Turn chicken over, baste with apricot mixture. Cook for 20 minutes or until done.\
Grana Padano Potage


Ingredients
Carrot: 50gm
Celery: 50gm
Onion: 50gm
Garlic (chopped): 10gm
Onion (chopped): 10
Bay leaf: 3nos
Peppercorn: 10nos
Parsley Stalk: 20gm
White wine: 25ml
Parmesan Cheese: 40gm
Broccoli Florets: 20gm
Water: 1.5lit
Salt to taste
Olive oil: 10ml
Method:
Make a stock with Carrot, Onion, celery, parsley bay leaf, Peppercorn and water by placing all the ingredients in a sauce pan and simmer for 1 hour.
Strain in a double strainer retaining the vegetable stock.
In a frying pan add in the oil and sauté the onion and garlic.
Deglaze the pan with the White wine and simmer for a minute
Add in the stock and broccoli florets and allow to simmer for a minute.
Season with salt to taste, add in 35 gm of the Parmesan cheese.
Place the soup in a soup plate and garnish with the remaining Parmesan cheese
Grilled Cottage Cheese Steak


Olive & Cilantro Tapenade, Tomato Risotto, Saffron Sauce
Ingredients
See Also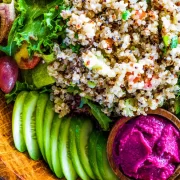 Tomato Risotto
250 Gm Tomato
2 tablespoons extra-virgin olive oil
1 tablespoon unsalted butter
05 finely chopped onion
05 finely chopped garlic
1 cup Arborio
1/2 cup grated Parmigiano-Reggiano
Saffron Sauce
60 Gm Fresh Cream
¼ threads of Saffron
1 Tbs Butter
30 ml. White Wine
10 Gm grated Parmigiano-Reggiano
Cottage Cheese Steak
150 Gm Cottage Cheese Steak
1 Tbs olive Oil
05 Gm. Garlic Chopped
05 Gm Onion Chopped
10 Gm Black Olive Chopped
10 Gm Green Olive Chopped
05 Gm Gherkins Chopped
02 Gm Capers Chopped
02 Gm Cilantro Chopped
Direction
Tomato Risotto
Core tomatoes and cut a shallow X in bottom of each, then blanch tomatoes in boiling water 10 seconds. Transfer with a slotted spoon to an ice bath to stop cooking.
Peel tomatoes using tip of a small paring knife, then halve tomatoes crosswise. Squeeze juice from tomato halves through a sieve into a bowl, pressing on and then discarding seeds. Finely dice tomato flesh.
In a sauce pan add water & tomato liquid and keep at a bare simmer.
Meanwhile, heat oil and butter in a heavy medium saucepan over medium heat until foam subsides, then add onion, garlic and cook, stirring occasionally, until softened and beginning to turn golden, 12 to 15 minutes.
Add Arborio rice and cook, stirring constantly, until it turns opaque, about 3 minutes. Reduce heat to medium-low, and then add wine and cook, stirring, until absorbed. Continue simmering and adding hot tomato-saffron stock, 1 cup at a time, stirring frequently and letting each addition be absorbed before adding the next, until rice is tender and creamy-looking but still al dente, 18 to 25 minutes.
Stir in diced tomatoes, cheese, and salt and pepper to taste. Thin with stock if desired.
Saffron Sauce 
In a sauce pan add white wine and reduce till the wine gets deglazed.
Add in butter, fresh cream and saffron threads, bring to a simmer and reduce heat for 5 minutes.
Add in salt and pepper. Stir to combine and simmer for another minute to blend the flavours.
Cottage Cheese Steak
For Tapenade – in a mixing bowl combine olive oil, onion, garlic, black olive, green olive, capers, gherkin and parsley
Rub tapenade on both side of cottage cheese steak and grill on a hot griller for 1 minute on each side.
Potage Parmenntier Soup


INGREDIENTS
2 tablespoons vegetable oil
4 to 5 medium potatoes, roughly chopped
3 large leeks
4 – 5 cups Vegetable stock
1 cup heavy cream
salt
chopped parsley
METHOD
Heat the oil in a large stockpot over medium heat.
Add the leek and potato. Cook, stirring occasionally, until the vegetables have begun to soften and brown slightly, about 8 to 12 minutes
Add the vegetable stock, and bring to a boil. Reduce the heat to low, and simmer for 30 to 40 minutes, or until the vegetables are tender.
Blend until smooth, using an blender
Add the cream, and season to taste with
Ladle into bowls, and garnish with a chopped parsley.
Roasted Red Pepper Soup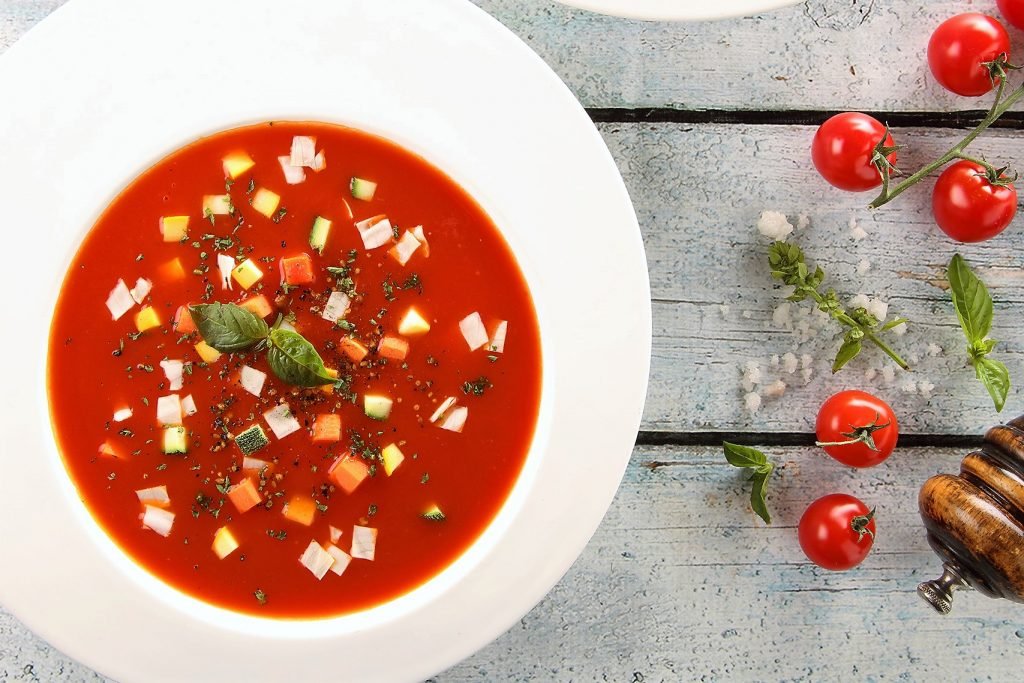 Ingredients:
Red bell peppers, halved and cleaned (8-10)
5 cloves garlic, in peel
2 cups chopped onion
2 tablespoons olive oil
2 large sprigs fresh thyme
2 bay leaves
4 cups vegetable broth
1 teaspoon hot sauce
½ teaspoon salt
½ teaspoon ground pepper
1-2 tablespoons rice vinegar
Directions:
Cut the peppers in half and remove all seeds and membranes. Press the red peppers flat with your hand and lay them on a foil lined, rimmed baking sheet. Place the garlic cloves on the baking sheet.
Set the oven on broil and raise the rack to the upper position. Broil the red peppers and garlic for 15 minutes.
Once the pepper skin has blackened, remove from the oven and place in a large zip bag to steam. (10 minutes)
Preheat a large heavy pot to medium heat. Add the oil, thyme, bay leaves, and onions. Cook for 10 minutes, until onions are soft.
Add the broth, hot sauce, salt and pepper. Squeeze the garlic cloves out of the peels into the pot.
Then peel the charred skin off each pepper half and place it in the pot.
Reduce the heat, cover, and cook another 20 minutes. Remove the bay leaves and thyme sprigs. Then, using a hand-held immersion blender or standard blender, blend until smooth.
Add the vinegar and salt again if needed.
Serve with extra thyme leaves.

Meher Sethi
A poetess and an inquisitive soul, Meher is currently finishing her graduation in fashion media communication besides working in the industry as she explores her likings.