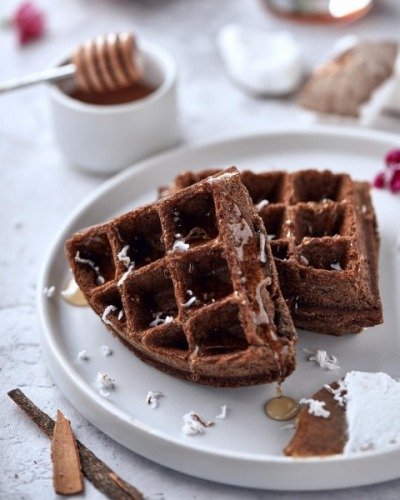 THE DELTIN, DAMAN – Chef Vijesh Modi, Sr. Sous Chef, Deltin, Daman, shares the perfect recipe for RAGI WAFFLES.
Ragi Waffles
Ingredients
Eggs
3
Jaggery
2 tbsp
Finger millet flour
1/2 cup
Grated coconut
1/2 cup
Cardamom powder
1 pinch
Cinnamon powder
1 pinch
Fresh cream
1/2 cup
Milk
1/2 cup
Butter
For Greasing
Maple Syrup
For Garnish
Chocolate sauce
 For Garnish
Almonds
 For Garnish
Pistachios
 For Garnish
 
Method
1. Take eggs in a bowl add Jaggery and whisk them well.
2. Add finger millet flour, fresh cream, coconut, cardamom, Cinamon and milk.
3. Mix well to prepare a creamy batter.
4. Grease the electric waffle maker with butter.
5. Pour the batter in the moulds on the waffle maker.
6. Toast it for seven to eight minutes.
7. Transfer the waffles to a plate.
8. Garnish with some maple syrup and grated coconut.