There are millions of pictures shared by people all across the globe every day. While some remain random, some go on to become a part of the history due to their relevance and because of people/places depicted in them. However, not all of them are of true nature.
We have tried to make a compilation of few images that are the most widely circulated fake images and would have had a different meaning altogether, if they were showed, as is!
Take a look!
The Red Army
This is one of the iconic images of World War II: the Red Army soldiers waving a Soviet flag in Berlin as a symbol of victory over the Nazis. This is the photo that was published in Soviet newspapers with propaganda purposes. The original photo, however, is a bit different.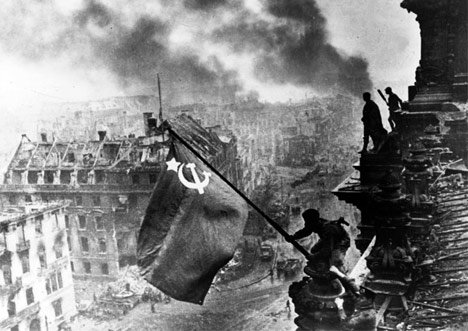 The photographer has added the smoke to simulate ongoing explosions
Mao Zedong vs. Bo Gu
To appear more powerful in the eyes of his constituents, Canadian Prime Minister William Lyon Mackenzie King had George VI erased from his photo with Elizabeth, the Queen Elizabeth The Queen Mother.
Women, Religion and Politics
After the wave of terrorist attacks that hit Paris, the leaders of 40 countries of the world gathered in the French capital for a march of solidarity, on 11 January 2015. The ultra-Orthodox Israeli newspaper "The Announcer" was accused of having erased with Photoshop all the women politicians who attended the event. In this photo you can see only the male leaders …