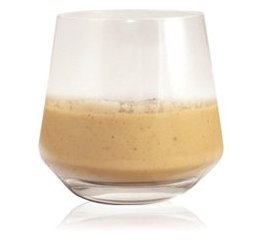 Coffee and hot chocolate have always been the season's favorite when it comes to serving your taste buds with something warm. Patrón XO Cafe uses a rich blend of coffee and tequila, which results in just the right balance of sweetness and dryness for a unique taste.
This monsoon, concoct your cocktails with the help of the recipes by Aspri Spirits while you enjoy the pleasant weather.
1)      Hot Pumpkin Café


Ingredients
½ oz Patron XO Café
1 cup coffee
1 oz pumpkin liqueur
Whipped cream
Pumpkin pie spice
Method
Combine the Patron XO Café, pumpkin liqueur and hot coffee. Mix well until they're well blended and pour into a cup. Garnish with whipped cream and a sprinkle of pumpkin pie spice.
2)      Gingerbread Man


Ingredients
½ oz Patron XO Café
½ oz Cream Liqueur
1 cup hot chocolate & sea salt
Gingerbread man cookie
Whipped cream
Ground coffee
Nutmeg
Silver Flakes & silver embedded chocolate leaf for garnish
Method
Mix the Patron XO Café with the cream liqueur in a coffee cup, add the hot chocolate and pinch of salt. Add the coffee ginger cream on top then sprinkle the ground coffee and edible silver gold flakes. Garnish with blue dusted chocolate leaf. Serve with gingerbread man cookie.
See Also

Home » Warm Cocktail recipes By Aspri Spirits
3)      Café Royal


Ingredients
1 ½ oz Patron XO Café
1 cup freshly brewed coffee
Whipped cream
Cocoa powder
Method
In a heated coffee mug, add Patron XO Café, fill the mug with coffee and top with freshly whipped cream. Garnish with cocoa powder.
4)      Patron Eggnog XO


Ingredients
4oz Patron XO Café
2oz honey liqueur
1oz walnut liqueur
4 cups warm homemade eggnog
Freshly grated spices for garnish