Home » Road Trip Tips For Traveling The World On A Bicyle
Road Trip Tips For Traveling The World On A Bicyle


If someone would have told me, just few months before I undertook the journey of a lifetime, that in the next three years I would have crossed 23 countries I wouldn't even have laughed But now, I have cycled 25.000kms across deserts, snow peaked mountains and jungles; all on a bicycle and no, I had no road trip tips to refer to.
Yes me, a 30 year old with no job, chain smoker, beer addict and the sportiest thing I'd done in the last 12 years being dancing on some golden age's funky music in a squat.
And yet I did it! Here I'm, my life completely upside down, feeling better than I've ever felt, found my way in this world.


I started from Bologna, Italy, in May 2014, the first week was tough I've to admit, I pushed too much and my knee failed the third day, I needed a two days rest and a huge anti-inflammatory injection, my butt was sore all the time and some people I met were discouraging. One guy saw my bike (an antique from 1936, adapted by myself for touring), thought I was just going to Croatia and said my bike was a piece of junk and I will never make it. Boy, would I love to meet him now or what to give him road trip tips of my own!
The most curious thing was that all of the people I met just thought the place they were at was my final destination. Nobody believed me when I said I was going to China (eventually I went further).
After going through the first month, always free camping (who wants a luxury hotel when on the move), crossing 5 countries (Slovenia, Croatia, Bosnia, Serbia, Romania), every day fitter, I started realizing this to be my future lifestyle for the years to come, and I loved it, I felt realized, younger- I felt HAPPY.
I got into a routine, sleep early, wake up early, rest one hour for lunch and one more hour in the late afternoon, usually for a beer and a cigarette (yes, I didn't quit). Yes a routine, just that every day I was in a different place, meeting different people, making different experiences.
Central Asia, China, South Korea, Japan, Philippines, Borneo, Indonesia, South East Asia, in every new place I found a new bit of myself, I learned, I shared, I grew up. Now I'm sure I won't stop, the world is big, but not too big to ride it all.
Now I'm in China, working to make some saving to keep going for the next three years.
If you've an appetite for travel, bike touring is probably the best way to experience a place, one meter at a time. You'll see what's in-between, not just the touristic destinations, but the real life of a country.

So, why don't you take your bike and ride, just follow the road wherever it takes? Yes I know, you may have some concerns, and that is what I am going to talk about now.
What about money?
Well, there's basically no cheaper way to travel. No transportation fees mean saving a lot and that is one of the most valuable road trip tips. While hitch-hiking usually brings you from town to town, bicycle touring means being mainly in the countryside, so plenty of places to camp for free!
Our budget is 300€ per month, but we met touring cyclist travelling with less. That means that by having just 3,600€ you could spend a whole year on the road.
I'm not fit, I can't do it
Well, I already told you about that. The secret is: just ride. Believe in yourself, everybody can, no matter the age, the weight or whatever. Don't push yourself too much though, stop when you feel tired. It may be after 20, or 30km, who cares. Nobody is chasing you. Make this your first rule and you'll see how fast you'll improve.
See Also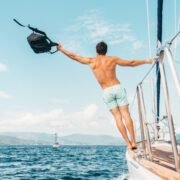 Home » Road Trip Tips For Traveling The World On A Bicyle
I don't feel safe, roads are dangerous and wild camping scares me
Yes, that's true, roads are dangerous, so what? Don't we go to work just the same? Most of the accidents actually happen in the urban areas, take minor roads and you'll realise that's just fine.
Wild camping of course has is an amount of risk, mostly dependent upon the place you're. Trust your instinct and don't do it if you feel bad about it. But bear in mind that most of the places are way safer than people think. The whole of Asia is mostly safer than Europe, and you'll be surprised how many locals will invite you to sleep at their homes.
Yeah, maybe you have many more questions, contact us if you wish and we'll try to share our experience.

Bicycle travel; think about it, you'll never be the same after it.
Below is our social media links, which would make it easy for you to reach us if you wish to.
http://cycloscope.weebly.com
https://www.facebook.com/cycloscope/
https://www.instagram.com/cycloscope_globecycling/
YouTube
Author: Daniele Giannotta is an Italian adventurer, writer, musician and free spirit. In 2014 he started cycling around the world with his girlfriend Elena Stefanin. They're still on the road. On their blog, Cycloscope, they share their experience, publish reportage and useful road trip tips, not just for bicycle touring, but for every form of traveling.
"A mind is like a parachute. It doesn't work if it is not open."
— Frank Zappa