Home » PACK YOUR BAGS FOR A DREAM HOLIDAY IN LANGKAWI
PACK YOUR BAGS FOR A DREAM HOLIDAY IN LANGKAWI


Langkawi is known as the Jewel of Kedah and is located in the Andaman sea in the northwest region of Malaysia. It is surrounded by beautiful and majestic areas of ocean and house some of the best beaches in the world and is always meant for best family holidays.

I picked this place for my vacation spot because of its scenic beauty and magnificent ocean stretches. I was expecting this place to be my Saviour and bring my mind and soul a much required peace. I Approached TravelTours for booking Langkawi holiday package.With high expectations in my mind, I boarded my flight to Malaysia and took a scenic journey on a boat to the island of Langkawi.
I only took a few glances and instantly realized the beauty and natural landscape Langkawi possessed. In my day one, I decided to visit "Pulau Payar", an island in the mainlands of Kedah which is famous for its archaeological importance. It was beautiful and the location was perfect for scuba diving, which gave me a chance to observe sea life in a new form. I took a boat back to Langkawi, which turned out to be an adventure in itself.
On day two, I was thrilled to visit "Dataran Lang", which is considered as one of the best man-made creations of Langkawi. It is also known as eagle square and houses a 12 meter-tall eagle sculpture joined at an elevated platform. It gave me some breathtaking views of the island and neighboring miniature mountains. After a few hours, I indulged myself into a delicious buffet filled with Malaysian delicacies.
See Also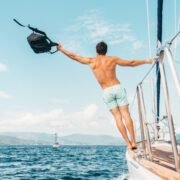 Home » PACK YOUR BAGS FOR A DREAM HOLIDAY IN LANGKAWI
On day three, it was time for some wildlife adventure. The "Underwater World Langkawi" is the largest aquarium, housing more than 500 species of different animals and sea creatures. It has a 15-meter long walk through into a tunnel containing six million-liter of water and sea life. This was a defining experience and took my excitement to a whole new level.
If you are looking for a vacation that can relax your mind and give you memories of a lifetime, then Langkawi is your ultimate destination.