Home » Make it The Perfect Valentine's Day For Her
Make it The Perfect Valentine's Day For Her


So, all you guys out there with Valentines, the special day is coming up real soon! If you're fretting about it already, don't you worry. StyleRug comes to the rescue with some practical, creative, and fashionably savvy tips to sweep your Valentine off her feet.


– As the day starts off, a great way to bring a smile to her face, is to plan a cute surprise in the morning. It can be as simple as preparing breakfast in bed, or leaving her a sweet note about how amazing she is.
– Valentine's Day comes on a Sunday this year, otherwise the perfect day to lounge around with your better half. Spending as much quality time together is a great way to strengthen your relationship. Whether it's watching a movie together, cracking jokes, cooking together, or just taking a stroll in the park, be sure to make the most of this special day together!
– A gift is always endearing on this day, but it's not always necessary. Keep each other smiling and that will be more than enough.



· Towards the evening, going out for a romantic dinner is ideal. This is the time for both of you to look your best. Guys, put on that shirt, spray on that cologne (that she may have gifted you, this is the best time to), and look dapper for your special lady. Make sure to load your sweetheart with as many compliments as possible. She may have gotten all decked up just for YOU.
See Also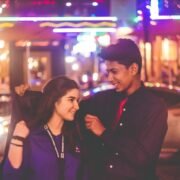 Home » Make it The Perfect Valentine's Day For Her
– Lastly, and most important, make sure to end the day on a good note. Don't let anything bitter or complicated resonate from the past. This day is all about spreading as much love as possible. Give her that hug and goodnight kiss to bring the day to a sweet ending.
Words- Arushi Dutt