Home » 7 Things That Will Bring Your Relationship to the Next Level
7 Things That Will Bring Your Relationship to the Next Level


Peter Minkoff
Peter is a men's grooming & fashion writer at High…
Whether you have been nurturing a loving relationship with your partner for some time now or you've fallen for the love of your life just yesterday, you need to know how to take your relationship to the next level. Progressing in life is not about how much money you make, what kind of car you drive and the neighborhood you live in, it's about how you spend your quality time with the people that make your life worth living.
So, here are seven ways to break your relationship plateau and reignite your flame into a raging fire.
Start vacationing together

There is nothing more romantic and enticing than a weekend getaway for two, or a week-long vacation. If you are in a new relationship, you would want to take it slow and postpone a longer vacation until you are sure that your newly found lover brings out only the best in you and that you work well together when separated from the rest of the world.
Meet the family
Meeting your girlfriend's shotgun-wielding daddy and her Krav Maga black belt brothers can be a daunting experience indeed. But you have to do it. In order to face your impending doom like a true man and in hopes of living to tell the tale, you want to have a few prerequisites in check.
First, you want to fix your posture. Next, you want to work on your manners and learn how to smile. Lastly, you need to learn how to speak clearly and broaden your vocabulary while you're at it – but do keep it casual.
Sleepover more often

Whether you do it unintentionally, or you deliberately want to spend more time together, you should start sleeping over at your girlfriend's house more often, and vice versa. Sure, you're a lone independent wolf, and you need your manly space, but we all know how you can't stop thinking about her when she leaves, so rather than texting the entire time until you see her again, just ask her to stay over more often.
Don't worry, you'll still be the alpha of your domain. Still, do your best to tidy up, brother.
"Forget" a few trinkets
One of the best ways to test the waters and see if she is up to taking your relationship to the next level is to deliberately start "forgetting" a few bits and bobs here and there at her place. If she welcomes it, she will start leaving her things at your place as well, and by the time you figure it out, you will have moved to the next stage in your relationship, ready to take it to the finish line in the near future.
See Also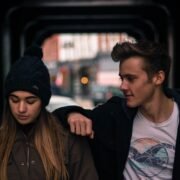 Home » 7 Things That Will Bring Your Relationship to the Next Level
Spice things up

There is probably no better way to reach a state of trust, commitment and spark an undying flame between you than to spice things up in the bedroom and show your wild side with strength, romance, and passion. Start by becoming more ferocious in the bedroom, and then move onto other areas of the house, employing various exciting sex toys to bring you closer together and ignite the passion that will make you the stuff of her every wet dream forever.
Move in together
Don't be afraid. It's only normal when you love someone. In fact, if you look into her eyes and try to observe from afar how she constantly makes you smile, you will know that it's the only logical next step that will give your life a true meaning. Embrace her, kiss her gently, give her the key, and watch your future unfold before your eyes.
Pop the question
You knew it would come to this. Fortunately, by now you have mustered up the strength and you have been dreaming of this for a long time. There is nothing left to do but declare your undying love to each other and the rest of the world. So, take a deep breath, get on one knee, and for the love of good man, don't blink, because this will be the image you will cherish for the rest of your life.
There are many ways you could take your relationship to the next level, and while not every love is meant to last forever, you should treat each moment and every person with the attention and respect they deserve. Treat them with love and respect, and who knows, maybe you will find what your heart has always been searching for.

Peter Minkoff
Peter is a men's grooming & fashion writer at High Street Gent magazine from UK. Beside writing he worked as a menswear fashion stylist for many fashion events around UK & AU. Follow Peter on Twitter for more tips.