Home » 5 Vacation Sex Tips Every Guy Should Know
5 Vacation Sex Tips Every Guy Should Know


Peter Minkoff
Peter is a men's grooming & fashion writer at High…
Many will say that sex is just sex and that it doesn't matter where you have it, as long as it's with the right person.
Well, when you think about it… the first one might not be entirely true. It's very important where you're having sex as it can make or break your whole experience. But all unusual places aside, there is something very exciting and hot in vacation sex.
It doesn't matter where this activity takes place, a hotel or the great outdoors, we should all have this experience at least once in our lifetime, if not more.
Now that we're on the subject of vacation sex, let's talk about all the things that you should have in mind in case this is something that you and your girlfriend have planned out for this year.
Don't have any expectations
First and foremost, it is imperative not to have any expectations when it comes to vacation sex.
Even though this might be something that both of you want desperately, the chances of something coming up and stopping you from achieving this goal do exist. In order not to disappoint yourself, try not to set your expectations very high. Instead, be spontaneous.
This will only make your sex all the more exciting and hot. However, make sure that your girl is of the same opinion.
Make it more interesting
What happens in Vegas, stays in Vegas, right? Well, in the same way, what happens on any vacation, stays right there.
And that's exactly why your vacation sex should include anything that you have always wanted to try out but perhaps were afraid to. One such thing could be introducing good sex toys to the game, which can make this experience an even more amazing one.
Even if you're an avid user of sex toys, make sure you try a new one.
This is the time when you want to try out new things – you're far from home, so let yourselves go crazy. You want as many good memories from your vacation as possible, and this might just be the winning ticket.
Leave your work at home
How many times have you gone on vacation and yet had your eyes glued to your Gmail account? Nothing is that important, so make sure to leave your work at home for as long as you can.
Your body needs rejuvenation and relaxation, and your vacation is the place for that. This will also affect your sex life; as for vacation sex, you really need to be as relaxed as possible. You can use that time to make your girl (and yourself) rather happy.
See Also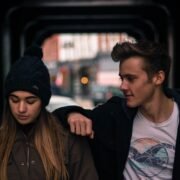 Home » 5 Vacation Sex Tips Every Guy Should Know
Make sure to have outdoor sex
If there is something that you have to try during your vacation, that is outdoor sex. Even if someone sees you, no one knows you there.
It doesn't matter if you're into it or not (but all of us are to a certain extent, right?), this is something you should try out. Of course, make sure to know your girlfriend's opinion, as you do not want to come out as a sex-addict who cannot control himself. Be careful and play your cards right.
On the other hand, if you know that your girlfriend will be into outdoor sex, be spontaneous and carefully choose a nice and secluded location because, after all, you don't want to get caught or end up paying a fine. 
Join the mile high club
Did you think that we would give you tips about vacation sex and not mention the Mile High club? This is a real thing, even celebrities admit they joined this club.
It is also perhaps one of the kinkiest and most interesting ways to have vacation sex – even thinking about it can make us hot. Just relax, enjoy the flight, invite your girl over to meet you in the plane toilet, and let the magic happen.
Having vacation sex is turning yourself into a completely new person, a persona that is not afraid to try new things. That is the real romantic and sexy magic of vacation, and it is also what makes vacation sex so great – anything is possible, and everything should be possible.

Peter Minkoff
Peter is a men's grooming & fashion writer at High Street Gent magazine from UK. Beside writing he worked as a menswear fashion stylist for many fashion events around UK & AU. Follow Peter on Twitter for more tips.