Home » 5 Surprising Things You Can Do For Your Girlfriend
5 Surprising Things You Can Do For Your Girlfriend


Peter Minkoff
Peter is a men's grooming & fashion writer at High…
For a couple in love, sometimes there just aren't enough sweet things they can do together. You are both looking for new ways to show your love and you are always keen on pleasing your girlfriend just to put a smile on her face.
No matter if you are still enchanted, or deeply in love with her, you are still trying to win her affection – by showing that you care. As your relationship develops, your romantic gestures may become few and far between, but, you definitely shouldn't stop winning her over. Here are a few ideas.
Leave her notes
If you live together, you can make her day amazingly interesting by leaving little "Post-It" notes at the places she is sure to stop by during the day. Begin with one behind her alarm clock, which she will see as soon as she opens her eyes. Remember to include a hint where the next note might be waiting for her.
Make a short, but intense story, so that every note is a cliffhanger of its own. This way, she will be eager to find the next one. Even if you are not there to witness her little treasure hunt, she will definitely show that she enjoyed every bit of it.
Motivate her

One thing about motivation is that it always works better if the two of you are doing things together. If your sweetheart is wrestling to keep herself motivated to achieve something, you should join her and take part in her road to the goal.
An excellent way of learning how to motivate each other is by working out together. And just imagine how fit and sexy you both will look after a few months in a gym.
Give her a massage

You would be surprised how much a girl appreciates a relaxing sensual massage. After she has had a long day, tell her to sit on the couch and get ready to be pampered.
Fix her a drink and start by massaging her feet. Tell her that it is her night to relax. Alternatively, you can book a couples massage in a great wellness and spa center, so you both can enjoy at the end of a stressful day.
Learn something new

Find local artisans who organize inexpensive workshops for learning new skills. Ask about cooking classes you can do together. Try remembering things she once mentioned she would love to learn. Maybe it was basket-weaving or making pottery.
And wouldn't it be romantic if you decorate your place with items that you made together from scratch?
Take her on an unplanned date night
Have you noticed the "aww" moment every girl experiences when she sees a female protagonist in a romantic comedy receiving a big box with a beautiful dress in it?
See Also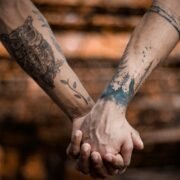 Home » 5 Surprising Things You Can Do For Your Girlfriend
If your heart is bigger than your budget, you can lay out her favourite fancy dress on the bed, accompanied by a beautiful necklace or a pair of shoes you selected personally from her closet.


Leave a note on the side saying that she should get ready for an unforgettable night in town. Book a table at a new restaurant and don't forget to buy her a small present.
Bear in mind, though, if you try all these things, you just might get your girl too spoiled. Show her affection by devoting time to her needs and treat her in the best manner possible. All these ideas mean little if you don't love her and show that you truly enjoy making her happy.
All these ideas mean little, if you don't love her and show that you truly enjoy making her happy.
Pic Courtesy: www.pexels.com

Peter Minkoff
Peter is a men's grooming & fashion writer at High Street Gent magazine from UK. Beside writing he worked as a menswear fashion stylist for many fashion events around UK & AU. Follow Peter on Twitter for more tips.