Home » Tips on a stress-free Holi
Tips on a stress-free Holi


The festival of colours, Holi, is round the corner and people are already in a colourful mood.It is that time of the year when we all will see the mash of red, yellow, green, blue and more around us. While some of us will try to snub them, others will joyfully play and get dirty. But, there is no escaping it.


So, Hollywood returned Beauty Expert and Executive Director of Alps cosmetic clinic, Ishika Taneja tells you how to make the most of it letting your skin and hair look the best despite the chemicals and colours.
Dress Right



To enjoy the festival thoroughly, it is wiser to choose the right clothes. While digging out the old rags prefer cotton.While white will be a perfect canvas for this festival, avoid demins as they get drenched and take time to dry off. Full sleeve tees, double layered polos or kurtas will protect your invaluable skin while covering your body completely and prevent any direct contact with chemical or colours. Floaters will help you keep your feet dry, while sunglasses will protect your eyes, albeit, adding the X-factor to your personality.
Oil Champi
While you all know that you have to get ready after finishing Holi but that does not mean you don't have to care before it. Start with oiling your body in the morning with a lubricant like olive or coconut oil. The grease and slipperiness of the oil will not let the harsh colours settle deep into your skin.If you have a sensitive  skin, also add a neem juice to avoid any infection triggered by the chemicals in colours.
Apply a thick layer of sunscreen on your face to protect you from long hours in the sun. Massage your lips, hands and feet well before you plan to smear others with colours. Steer away from any harsh chemicals. Opt for organic or herbal colours and encourage friends and family to do the same. Chemicals like Mobil or Grease can have an extremely bad effect on your hair and skin. Use only organic colours, water balloons and other such stuff that allows you to enjoy the festival without causing any potential damage.
See Also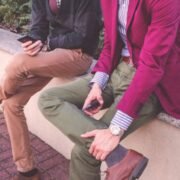 Home » Tips on a stress-free Holi
Happy Hair care



There is no way to prevent your hair from getting wet or coloured in this frenzy. Applying long-stay hair gel might not long last enough cause it is water based. But, what you can do is massage them well.Try dollops of coconut , olive or almond oil. Cool caps or trendy bandana will get all the girl's attention while giving minimum exposed area. Spraying gel spray adds a layer of protection too.
Natty Nails
Who said nail top coats are just meant for women? Coat your nails with a Vitamin E based coat and also drench your cuticles in olive oil so your nails do not soak up any colours. Trim your nails well before you enjoy the riot of colors and fill vaseline in them to protect them further.
Follow Ishika Taneja On Facebook – https://www.facebook.com/ishikataneja.expert