Home » Polka & Stripes- Wear Them Both!
Polka & Stripes- Wear Them Both!


There comes a time in a man's life, when he has to look into his closet, take a deep breath and ask himself the simplest of questions–Stripes or dots? To which he can never get a straight answer in his head. There's never a hard-and-fast rule to wearing stripes and checks, apart from the regulars (which we will jot down, in case you missed out on some).
Another question that hounds all men is, 'Why can I not wear what I want?' The answer to that is – unless you are Tim Gunn or Tom Ford, you have to accept the fact that sometimes your sartorial judgement may go wrong.
Let the streaks shine!

OK, first off a reality check… Thick stripes have been out of fashion for a long time now. No matter what the shopkeeper says, there's no way you can wear thick stripes of colour on a solid hue and not make people look twice at you (not in a good way).
If you really think that stripes are the way to go, the best and the safest choice is pinstripes. Being the safest option, we think it's also the sexiest one. Making your body look slimmer, it also gives a shape to the whole ensemble.
The key tips to remember are –
Vertical lines make you look slimmer and taller.
Horizontal lines make you look broader.

So, if you think you have a broad frame or a paunch, the best option for you is thin, vertical stripes. Want to look outright discreet? Put on a black shirt with grey pinstripes. While men on the thinner side can always go for contrasting colours, in thick horizontal stripes. Many a great gentleman has tried the art of mixing colours with stripes. Be aware of your complexion, since it does play a crucial part in your entire ensemble.
Socks



There is yet another thing that men have not mastered yet and that is socks. Rules to keep in mind – NEVER wear white socks with brown or black shoes. Socks are not a part of the get-up, if there are sandals involved. Clown socks, or coloured socks, should be kept in the drawer and never be worn in public.
Polka anyone?



The only way you can carry off polka is by not really showing it off. Don't get us wrong; we are not insinuating that you can never wear it, however, you can put it up subtly.
See Also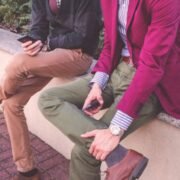 Home » Polka & Stripes- Wear Them Both!
The key to wearing polka is merging it with the other colours in your ensemble. They should be as small to the naked eye as they can be… while maintining their individual streak, since bigger dots will only make you look like a retro dancer from an Austin Powers movie. Take a cue from dapper street-wear and shake it up a bit. Do not try contrasting colours and never any big dots. But you can always experiment with the smaller and more filling patterns.
You have to take care of wearing patterns and colours, try to go through our articles – Bold colours for men, 6 Rules to dress bold and When in doubt, be loud!

There is no shame in experimenting with your wardrobe, never be ashamed of what you wear and what your style is. But keep in mind, whatever you wear should make you shine right out of the crowd.
Words: Arundhati B