Home » Men's Underwear- Know It Better
Men's Underwear- Know It Better


Think for a moment! You ask your girl out for dinner, dress up ravishingly to pick her up, take her to the best food joint in the town, have sumptuous food, go for a long drive and then just when you are about to get all kinky with her, you see her wearing her grandma panties… What a turnoff, isn't it?
Hate her for that, but the situation could exactly be opposite, when she finds out that you have got the layers of bunchy boxers, crusty briefs or the worst offender of all: tighty whities with skid marks in between your legs. Needless to say, the style and state of your underwear certainly says something about you.
But what actually matters is what women (if you are player enough to have more then one), think about it. And if you play it right, you might just end-up impressing them even when you are not wearing your most expensive Armani suit…
Don't be embarrassed to admit that at some point in junior high, your angsty, teenage self swapped those boyhood briefs for boxers and never looked back. Sure, some Looney Tunes or sports teams helped shroud more of you during the daily tragedy of stripping down for sixth period gym. But nowadays, those shorts are just excess baggage to lug around under your suit pants and slim-fit jeans. While we would have hoped you found that annoying (if not totally uncomfortable), it's downright aggravating that you're still protecting your pouch when the only thing women really want is to see what you're packing.
This is the trimmed-down, gym going version of the originals that we earlier talked about. It's less bunchy, not as long, and far more comfortable (no cramming or jamming required here). The more grown-up cut means you usually won't find kids' prints here, but solid, subtle stripes and the occasional polka dot t keep up with the trend (;)).
In short, this is a boxer made for real men. And when you wear them, make no mistake about it. women will treat you like one.
Tighty Whities
Well, the title might just give it a brief and bad touch, but truth is, nothing comes close to the comfort and coolness of clean, crisp tighty whities. Update your assortment every six months or so by burying the worn ones in the trash.

See Also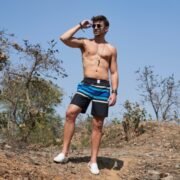 Home » Men's Underwear- Know It Better
Make sure that you are wearing styles with a seamless pouch and not the traditional type with that weird wiener hole (which actually will not help you for anything else that you might have in mind, while in your bed all alone in the night). What it does tyhough, is display your jewels more prominently. Now, which girl wouldn't want that, and what guy would not want to show-off? There's no shame in amplifying your endowment, because no matter what anyone says, size does matter my dear freind.
No matter how meticulous you are, keeping white briefs clean is a tough task, especially if you are single and stay along (you know what we mean here, don't you ;)?). That's where its colored counterpart comes into play. Black, gray and navy are go-to tints. But if you're a guy who likes to live life on the edge, red, green and purple are solid selections, too. Let her peel off those conservative jeans and get a taste of something spicier than the usual boring brief.
Athletic Underwear
If you're playing the field (literally), there's good reason to guard your goods. A fastball or cleated kick could send you to the hospital and completely quash your chances of having kids. Other than that, there's no clear cause for stuffing your junk in jock. So, if you choose to wear one when you're out and about, be prepared to answer some questions when you get home.