Innovation and experimentation! These are the two words that I would like to use, when it comes to best describe what John Players Jeans has to offer this season. And in their recent bloggers meet held in New Delhi, they showcased enough of it.
Though we loved the entire new collection, what caught most of our attention was the new jeans line, which we are sure, will rule the market like never before! At a time, when guys are ready to experiment with the colors that they are choosing in their wardrobe, John Players jeans is offering them shades that were never really readily available before.
In a fitting range, meant for the gen-x people, that comprises of experimental washes and multiple shades, the fashion forward collection of denim wear showcases jeans which are light, stretchable, comfortable, playfully stylish & highly durable.
Ranging from Regular, slim, skinny, comfort skinny and super skinny; enabling greater choice for the youth, JP plans to satisfy all your denim love with the plethora of options to choose from.
We created two looks during this bloggers meet; however, we used the same denim in both the looks, while pairing it with different options on the top.
Look1
When it comes to denims, most of the guys like playing it safe! Choose darker shades and match them a bit with contrasting colors, and we think we are ready to go. Well, that's for yesterday!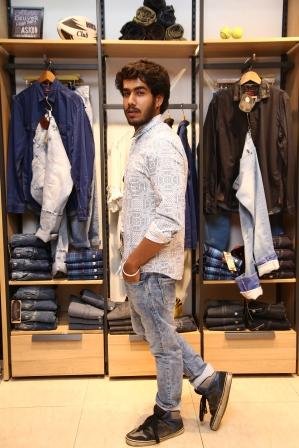 This washed blue denim is matched with this minimalistic looking white shirt that can serve you well in both your semi-formal and casual meets. The reason for choosing this look was also to compensate for the virtual pressure-cooker situation in which we are living.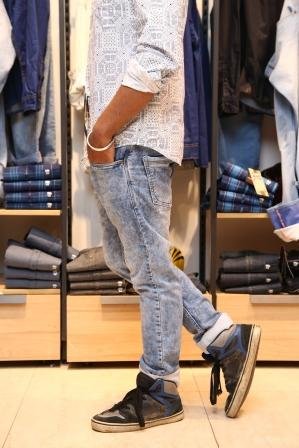 In this extreme heat, it is almost unbearable to go for darker shades and not be uncomfortable. This light shaded look will not only take care of your love for denim, but also let your body breathe free.
Look2
As we mentioned earlier, we have kept the same denim in this look, but changed the packaging at the top! Leaning heavily towards that casual look one should definitely opt for, when not at work, we have paired this washed blue denim, with a dark blue shirt and a yellow-t inside. This look as a whole can be changed in a whisker, giving you advantage of two looks in one attempt.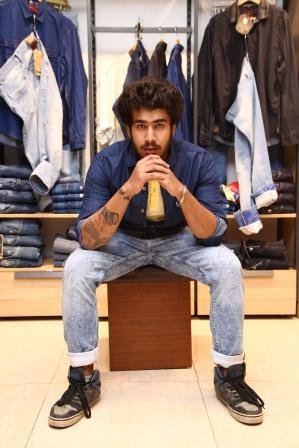 Just take that shirt off and you are ready to move on with the denim paired with the yellow t-shirt, a perfect match to
counter this heat.
If you are ready to have an edge over your friends and colleges, then the era inspired Rock and Rolla look from JPJ is just for you and it will definitely make the heads turn every time you pass by. With distinctive laser washes, metallic accents and zipper details, the collection is awe inspiring and will grace the Rockstar in you.
If your love for dark shades is perpetual, the True Dark range is tailored for your needs by JPJ. The denim is a perfect match for your bold avatar. Available in the deep and dark shades of Indigo, the denim will enliven the audacious in you.
Laser wash denims offering intricate designs using laser technology to accentuate your fashion quotient. Well, you only get that at John Players!
– Sandeep Verma
PS: A note of thanks to Vaibhav Malik for posing for us!