Home » How Best You Can Wear Boots
How Best You Can Wear Boots


I love wearing boots! Not only they give you a very upgraded and macho look, they also talk about your astute sense of dressing! But before we move any further, let me confess one thing here. Till two yeas back, I actually had no idea how to wear them and with what!
Gripped by the regular notion of- men's boots are just for hoedowns and hikings… it took some effort from my lazzy a*se to come to terms with them. But boy, once you start loving them, you start savouring them for the rest of your life.
So, here I am sharing few inputs on how you could wear them the best- based on my experiences and also on – what they say!
These can easily be characterized by their ankle-high height, a close fit and, most notably, no laces. Instead, the Chelsea boot employs an elastic panel known as goring, which allows the shoe to stretch when taking off or putting back on. Although Chelsea boots rose to fame in the '60s mod scene (the Beatles booted up in a similar eponymous style), the shoe first came into being over a century earlier during the Victorian era as a riding boot praised for its convenience.
How to wear them: Once the tough boys of the fashion and its 'it' trend, they did vanish for a bit in between. However, they have started to make a comeback off-late, although now in a much more refined manner. I think it's a proof that suits and boots can actually have a live-in relationship, provided, that the cut complements the Chelsea's slim, sleek lines (a big punch to my retail head at Gucci who told me five years back that boots can never be worn with a suit). Your shirt collar, tie and, yes, even your briefcase should have an equally trim proportion to the slimness of the boot. Try pairing a navy suit with brown Chelsea boots, and we bet there would be no mouth that would say- now that doesn't look good! like these pictured here.
Just like the Chelseas, the chukka is also known for hovering in the ankle area. And if you were looking for any other similarity, then don't sweat, as the mother of the (somewhat) twins, stopped the supply of identical looking genes there and there about!
This boot comes with two to three eyelets of lacing and is often outfitted in suede. In the 1940s, chukkas popped up as part of a trend toward casual dressing, and by 1950, the British brand Clarks had invented its iconic desert boots (essentially a chukka with a crepe rubber sole), solidifying the style's spot in shoe history.
How to wear them: All it takes is a solid Oxford shirt and straight-leg jeans with a single cuff that gently covers the boot without breaking. So the pants fall straight over the shoe in a clean line, to do these shoes justice.
The Cowboy Boot
They're everything that you can image (we are assuming you to be that smart ;)). A tall boot shaft at least above the middle of the calf, no laces and a heel of about two inches- also known as Cuban heel. Although similar riding boots have been part of an equestrian lifestyle for centuries, it wasn't until the 1860s that decorative hallmarks like an angled heel and top stitching came into existence. They're still the shoe standard with the cowboy contingent west of the Mississippi, but you don't have to lasso livestock to own a pair.
See Also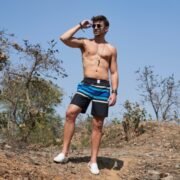 Home » How Best You Can Wear Boots
How to wear them: Now considering the fact that most of us don't really ride a horse anymore (except then the last day of our freedom – read weddings here), we suggest a more modern take in broken-in brown or tan with a rubber sole. But if you are one of those swagger, then couple them with a dark and slim boot cut jeans, an Oxford shirt and a tweed sportcoat.
The Hiking Boot

They say that the first hiking shoe came in frame in response to the emergence of mountain climbing as a sport in Europe, but took around a century to evolve into the all-purpose outdoor recreation hiking boot we recognize today.
How to wear them: Our take is, these are best worn with rolled corduroys (a single cuff will do) and a shawl collar cardigan or fitted sweater in Fair Isle.
Any inputs from you is always welcome 🙂