Home » Coachella Fashion, The Men's Way
Coachella Fashion, The Men's Way


Mia Taylor
Mia Taylor is a fashion and beauty enthusiast from Sydney…
Coachella, as you probably already know, is an annual music and arts festival held at the Empire Polo Club in Indio, California. However, do you know that this festival is famous for its fashion trends as well? No?
Well, there is no reason to be worried since we are here to help you find out everything you need to know regarding the perfect styling for this event i.e. Coachella Fashion.
You just need to take a look at the following list of suggestions and start packing since this year's festival has already started!
Follow In The Footsteps Of Your Favourite Celebrities

The Coachella Festival is visited every year by numerous celebrities including G-Eazy, DJ Martin Garrix, Orlando Bloom and Leonardo DiCaprio, and they all have created their own styling especially for this event. So, you can use them as an inspiration and come up with something unique for yourself.
For example, G-Eazy went for a Hawaiian shirt, which perfectly depicts the whole Californian lifestyle.  On the other hand, a famous male model Lucky Blue Smith went for a boho-casual dress code, which looks laid-back and sexy at the same time.
Make Yourself Comfortable
First of all, you have to make sure to feel comfortable in the clothes you choose for this event; so, we recommend that you go for a tank top or a T-shirt as a foundation of your Coachella fashion look.

Logo-adorned clothes are currently trendy when it comes to Coachella fashion, but if you're not into them, opting for a Hawaiian or tropical print is always a good alternative. It will go great with a pair of denim jeans.
Finally, since the Coachella Festival is the perfect time to go crazy, feel free to experiment with other patterns as well, and wear a groovy or funky T-shirt instead of your regular one.
Denim, Denim, Denim!

This year's festival is simply all about denim! Wherever you look, you'll see guys dressed in jeans and denim shorts. Furthermore, overalls seem to be a true craze this season, so you can't go wrong with them as well, and the best brands which you must consider are Forever 21, ASOS and Topman.
However, there are other alternatives as well. For men who prefer a more sophisticated appearance, we recommend black denim shorts, which will add a touch of drama to your look making you completely irresistible.
On top of that, when you pair them with worn-in Converse sneakers, you'll definitely stand out from the crowd.
Don't Forget Accessories!

Coming to the Coachella Festival without appropriate accessories is simply unforgivable. So, let's take a look at some of the amazing options.
See Also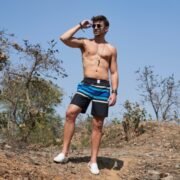 Home » Coachella Fashion, The Men's Way
For example, H&M layered bracelets look very chic this season, and what's best, you won't have to pay a fortune for them. Furthermore, a pair of sunglasses with colourful frames will make your appearance complete and show everyone how an easy-going and open person you are.
However, all of this won't do the trick if you don't show up with an amazing hairdo which will additionally accentuate your outfit. So, we heartily recommend that you try out the amazing Nioxin products, which will revitalise your hair making it look shiny and irresistible.
Stylish Footwear
Lastly, it's time to discuss footwear and finalize your look for this year's festival. For example, if you want to make a retro statement, go for a pair of white sneakers. And, in order to make them look more exciting, you can always combine them with a pair of crazy patterned socks.

Furthermore, espadrilles seem to have gained in popularity in recent years; so, feel free to try them out as well. The best thing is that they are both very practical and elegant at the same time.
As you can see, there is an abundance of possibilities. However, it's important that you find your own unique way to express yourself through your styling for this year's festival.
Finally, all that matters is that you like what you see in the mirror and feel comfortable in your own skin.

Mia Taylor
Mia Taylor is a fashion and beauty enthusiast from Sydney and writer for www.highstylife.com. She loves writing about her life experiences. Traveling and enjoying other cultures and their food with her husband is a big part of her life. She is always on a lookout for new trends in fashion and beauty and considers herself an expert when it comes to lifestyle tips