Home » 5 Menswear Brands To Follow On Instagram
5 Menswear Brands To Follow On Instagram


Instagram is a digital powerhouse like no other. Amassing 300 million active monthly users over its five-year lifespan, the social networking app has developed into a hub of inspiration for worldwide consumers and brands alike.
Recently, fashion labels and retailers have begun to harness the true power of the photo-sharing app, using it as a vehicle to instantly connect and share their message with potential shoppers, sidelining the need for traditional advertising channels.
Here are the five men's fashion brands that we think you must follow.
Converse



Global footwear giant Converse brings us real life snapshots of its iconic pumps through the popular social networking app, be it a battered pair worn to a gig or a fresh new style straight out of the box.
Alongside the many, many pictures of its shoes, you'll also find candid interviews with celebrity fans and artistic illustrations of its most-loved pieces.
Follow: @converse
Suitsupply



Amsterdam-based tailoring label Suitsupply takes you inside its sharply dressed world on Instagram, bringing you previews of its latest pieces, behind-the-scenes snaps, celebrity fans and beautifully presented styling suggestions.
If dapper dressing with a contemporary twist is your thing, be sure to add this label to your follow list.
Follow: @suitsupply.
Mr. Porter



When you click that follow button for Mr Porter, don't expect a constant stream of outfit shots – the luxury e-tailer treats its Instagram account as more of a lifestyle outlet, sharing images from beautiful destinations around the world, including Paris, London and Milan, to name but a few.
Every picture is so exquisitely presented that both fashion and photography buffs will find its profile a real visual treat.
Follow: @mrporterlive.
Topman



From new in pieces to celebrity style inspiration, the Arcadia-owned retailer's vibe is definitely one for the younger and braver dresser, with everything from festival styling tips to nineties nostalgia to draw you in.
During fashion week, you can also expect exclusive backstage snaps from its Topman Design runway show.
See Also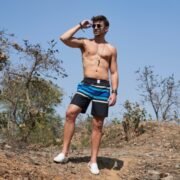 Home » 5 Menswear Brands To Follow On Instagram
Follow: @topman.
J.Crew



American label J. Crew has gained over one million followers on Instagram, and it's not hard to see why.
Candid street style shots and well-executed outfit snaps make up its social offering, bringing you inspiration beyond the standard clothes on a rack.
Although there are bits and bobs of womenswear weaved in, you'll find its colourful imagery captures your eye regardless.
Follow: @jcrew
Story Credit: Fashionbeans.com