Home » 3 Key Looks For Summers


You've navigated the tricky transitional period from winter to spring like a pro, but what's next?
Well, it's time to get your warm-weather wardrobe locked down, which is why we're here to bring you up to speed on three essential looks that you should be adding to your repertoire for SS15:
1. Blue-On-Blue
With tonal outfits currently having a moment, we've been urging you to pile on as much black stuff as humanly possible.
Now it's time to apply that same mindset to blue. Not only is this colour a fresher alternative to black for summer, but also it's notoriously slimming and, happily, goes with pretty much everything you have hanging in your wardrobe.

The key principle to bear in mind when kitting yourself out in head-to-toe blue is to vary your hues and textures in order to create a clear definition between each piece. For the most flattering effect, stick to darker navy on the bottom and opt for shades that get progressively lighter with each layer on top:
2. All-Denim Everything
Forget everything you thought you knew about double denim. Gone are the days when wearing jeans with a denim shirt and – God forbid – a denim jacket over the top was considered a sartorial faux pas.
We're ushering in a new denim-clad era, in which throwing on a pair of selvedge jeans and a robust worker shirt is the pinnacle of strong summer style for guys who want to eschew the obvious seasonal trends, such as floral shirts and shorts suits.

For a smarter take on the look, exchange your blazer for a sharply constructed denim jacket and wear it over a sky blue shirt and slim-fitting white jeans, finished with a pair of brown suede loafers.
Much like tonal blue outfits, the easiest way to pull off this controversial aesthetic is to mix up the colour of your washes:
See Also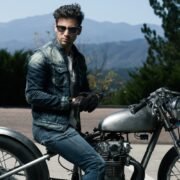 Home » 3 Key Looks For Summers
3. The Printed Tee
Few items exude laid-back summer vibes quite like a printed T-shirt.
And while we're going to sidestep anything gratuitously colourful this season, there are plenty of patterned designs available in muted tones that still pack a punch. From lavish paisley motifs to geometric streetwear styles, how you wear your printed tee is up to you.

That said, if you do end up going for an eye-blistering busy pattern, make sure you keep the rest of your look clean and simple in order to let your top become the focal point:
Courtesy: Fashionbeans.com