Home » 10 Best Ways To Wear Your Brown Blazer
10 Best Ways To Wear Your Brown Blazer


Wedding season is in full flow and I hope you guys are maintaining your style quotient to the best of your abilities and leaving few girls gazing at you! For me, well, I am not much of a wedding-attendee, so I have been lucky enough to wear my casual self; every day!
In one of my recent articles, I had explained how to choose a wedding suit, which I am sure must have helped you a bit in sorting your wardrobe for the weddings that you are to attend, or might have attended post reading it J. I would also request you to read one of our other articles, written by our style author from UK – The Most Common Suit Mistakes Men Make, to make sure that you do not over-do or make mistakes when picking a suit for yourself.
Having said that, what I have also noticed is that there are a lot of people (just like me), who do not like wearing suits to the weddings anymore. I got a chance to interact with one of such guys on a social media platform yesterday, who wanted to sort out a semi-formal look for a wedding with a brown blazer. On the same day, I also interacted with another reader who wanted to use his dark brown blazer for a farewell party. And that made me think- this brown thing is in yeah!
Well, I advised them the look, which I think will best serve them, but keeping that in mind, I thought of listing down 10 best looks that one can achieve using brown blazers during winters. Now this 10 best ways to wear your brown blazer funda will cover not only your casual/semi-casual look, but also help you in sorting out that sophisticated formal look; if you are looking for one.
See Also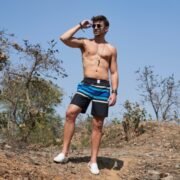 Home » 10 Best Ways To Wear Your Brown Blazer
Take a look and do leave your comments in the comment box below or queries if you guys have any.                                                                                                                                             











Sandeep Verma
One of my friends once said, I am in love with words and a zoned out poser... well, I will keep it the way it has been said! Besides that you can call me a compulsive poet, wanna-be painter and an amateur photographer