Home » Dumbbell Workouts At Home
Dumbbell Workouts At Home


Believe it or not, but a lot of us crib uselessly about how our schedule is way too cramped to, be able to hit the gym regularly. On the other hand, you will also find few people who would argue that gyms these days, are just too crowded to have a good workout session.
But in reality, the fact is that you don't need a gym to sculpt that toned body, but just a pair of dumbbells that weigh heavy enough to make you sweat and give the desired results.
Not many know that free-weights make the smallest muscle groups on your body work, to control and balance the exercise movement, thus making sure that they are not neglected. It's for this reason alone that serious athletes favour free-weight dumbbell exercises over machines, as dumbbells allow them to accurately replicate the natural movements of the body and avoid strength imbalances.
So, for your benefit here is a list of few handful workouts that can be performed with the help of dumbbells right at your home.
Chest
Inclined chest press: Lie down on an incline bench and start with the weights up over the chest with the palms facing out. Bend the elbows and lower the arms down, until the elbows are just below the chest. Press the weights back up without locking the elbows.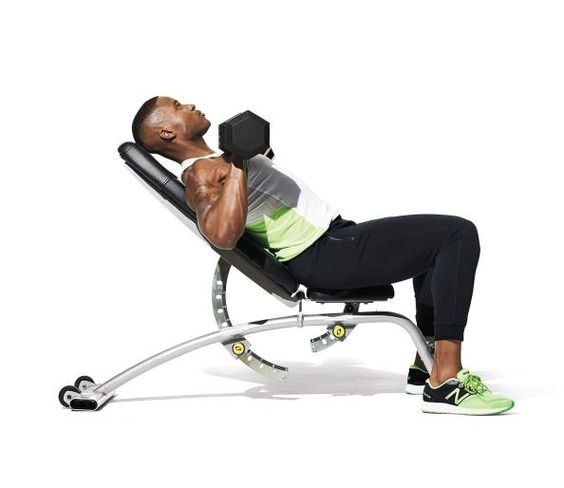 Number of sets- 1 to 3 sets of 8 to 16 reps.
Flat chest flies: Lie supine (face up) on a bench and support the dumbbells above chest with arms fixed in slightly bent position. Internally rotate shoulders so that your elbows point out to sides. Lower dumbbells to sides until chest muscles are stretched with elbows fixed in slightly bent position. Bring dumbbells together in hugging motion until dumbbells are nearly together.
Number of sets- 1 to 3 sets of 8 to 16 reps.
Shoulder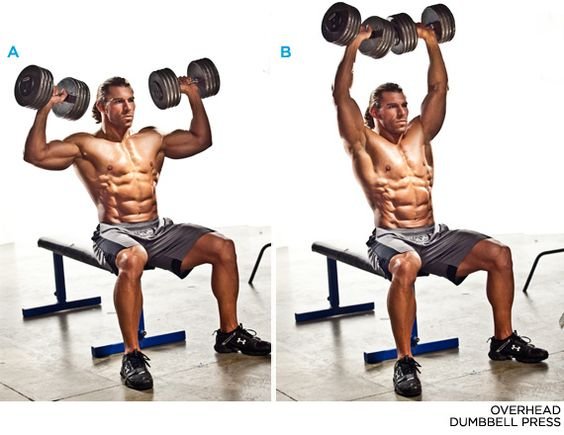 Seated shoulder presses: Sit on a bench with your body in an upright posture, positioning dumbbells to each side of shoulders with elbows below wrists. Press dumbbells upward until arms are extended overhead. Lower to sides of shoulders.
Number of sets- 1 to 3 sets of 8 to 16 reps.
Lateral raises: Maintain slightly bent elbows (10° to 30° angle) throughout this movement. At the top of the movement, elbows should be directly lateral to shoulders, since they are slightly bent forward. Dumbbells should be raised by shoulder abduction, not external rotation. If elbows drop lower than wrists, front deltoids become primary mover instead of lateral deltoids.
Number of sets- 1 to 3 sets of 8 to 16 reps.
Back
Seated revers flies: Sit on a bench or chair with your knees flexed and feet flat on the floor. Hold dumbbells at your sides with your palms facing in. Bend forward at your waist, bringing your chest toward your knees as far as possible and move your arms forward, letting them hang just outside your lower thighs. Arc the dumbbells outward and upward, until they're extended directly away from your shoulders, then lower them slowly and repeat.
Number of sets- 1 to 3 sets of 8 to 16 reps.
Single arm row: Hold a dumbbell in your right hand, bend over to place your left knee and left hand on a bench, wherein, your left hand should be directly under your shoulder and your knees should be positioned directly under your hips.
Exhale and slowly pull the dumbbell toward your side body. Keep your arm close to the side of your body as you bend your elbow and pull the dumbbell up. Inhale and gently lower the dumbbell to your starting position. Keep the back straight and strong, abdominal engaged and shoulder blades pulling down and back.
Number of sets- 1 to 3 sets of 8 to 16 reps.

See Also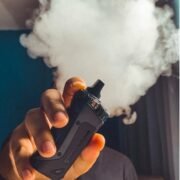 Home » Dumbbell Workouts At Home
Arms
Hammer curls: Position two dumbbells to sides with your palms facing in and arms straight. With elbows to sides, raise one dumbbell until your forearm is vertical and thumb faces shoulder. Lower to original position and repeat with alternative arm.


Repeat, for1 to 3 sets of 8 to 16 reps.
Concentration curls: Sit on a bench and grasp dumbbell between your feet. Place back of upper arm to inner thigh and lean into leg to raise elbow slightly. Raise dumbbell to front of shoulder and lower it until your arm is fully extended.
Number of sets- 1 to 3 sets of 8 to 16 reps.
Legs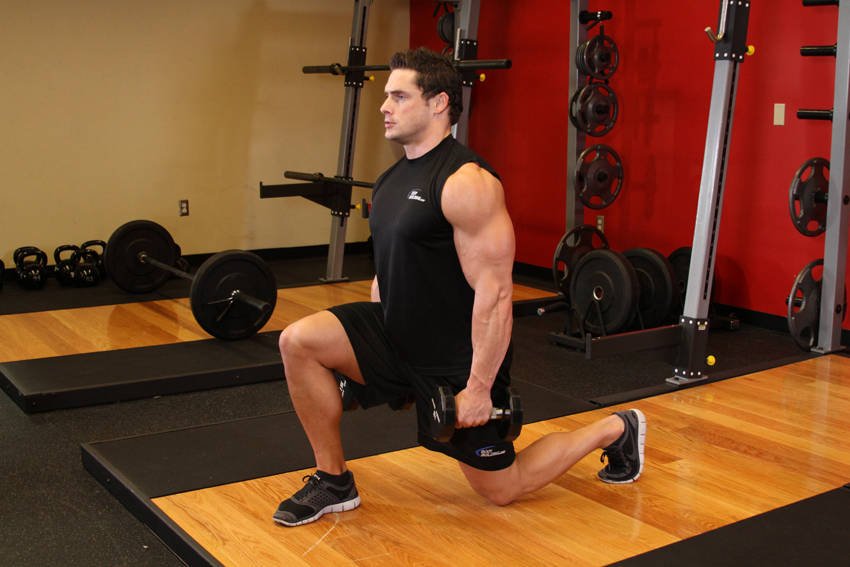 Dumbbell lunges: A lot of people ignore this body part when compared to the amount of time they dedicate to their upper body. However, legs remain the core part of your body that gives you strength and stability, during all the other workouts. Therefore, it is imperative that you work as hard on your legs, as you do for the other body parts.
To do dumbbell lunges, stand with dumbbells grasped to sides and lunge forward with first leg, landing on heel then forefoot. Lower your body by flexing knee and hip of front leg until knee of rear leg is almost in contact with floor. Return to original standing position by forcibly extending hip and knee of forward leg. Repeat the same process by alternating lunge with opposite leg.
Number of sets- 1 to 3 sets of 8 to 16 reps.