Home » 5 Easy To Cook Recipes To Keep You Warm During Winters
5 Easy To Cook Recipes To Keep You Warm During Winters


Winter is a tough season. I personally am not a great fan of it, as it makes me feel lazy and unwilling to work; most of the times! More importantly, since I stay alone, it seems like a long-lost memory- eating hot food, as whatever you order, becomes cold in no time.
So, keeping the plea of all the bachelors in the mind, we talked to celebrity chef Pallavi Nigam Sahay, who shared some easy to cook hot food recipes with us.
Ingredients
Stalks of lemon grass 2
Fresh red chili 2
Garlic cloves 3-4
Ginger 2 cm piece
Tomato puree 2 tbsp.
Kaffir lime leaves 4-5
Bunch of fresh coriander
Sugar snap peas 200g
Fish sauce 1 tbsp.
Soy sauce 1 tbsp.
Sesame seed oil 1 tsp.
Coconut milk 400 ml
Small Prawns 250 g.
Method
Trim down the edges of lemon grass and bash it with the knife, it helps to release all the flavors in lemon grass.
Put the lemon grass in a blender along with red chili, ginger, garlic, tomato puree, kaffir lime leaves, bunch of fresh coriander. Blend it properly.
Also add fish sauce, soy sauce and sesame seed oil, Blend it. Our fresh thai red curry paste is ready.
Heat 2 tbsp. of oil in a pan and add this paste also add prawns along with sugar snap peas, mix both of them gently and then add coconut milk. Let it boil for 4-5 minutes or till prawns get cooked. Check the seasoning.
Your delicious thai red curry with prawns is ready to serve
Chinese five-spice chicken with pan roasted potatoes


Ingredients
For Roasted chicken:
Whole roast chicken with skin on 1
Whole bulb of garlic, halved horizontally
Whole Ginger 1 cm
Spring onions 2
Star anise 2
Chinese 5 spices 1tbsp
Olive oil 1tsp
Salt and pepper
Roasted Potato
Peeled whole potatoes 2
Finely chopped garlic ½ tsp
Finely chopped ginger ½ tsp
Dried red chili, chopped 1
Spring onion chopped 2
Soy sauce 1 tsp
Sesame Oil 1 tsp
Honey 1 tsp
Lime juice ½ tsp
Salt and pepper
Method:
Pre heat the oven at 200 degrees for minimum 20 minutes.
Clean the whole chicken; dry it with the kitchen towel.
Season the cavity and insert the spring onions, ginger, garlic and star anise.
On the outside of chicken, rub oil, Chinese five-spice, salt and pepper.
Place it on a roasting tray and roast for 40 minutes.
Now let's prepare the roasted potatoes. Scoop out the potato balls out of the potatoes or just chop the potatoes roughly if you like. Boil them for 3-4 minutes.
Heat olive oil in a pan and then add garlic, ginger and dried red chili.
Add the potatoes sauté them till light golden colour and thereafter add spring onions, soy sauce, sesame seed oil, honey, lime juice, salt and pepper. Your potatoes are ready.
Now let's get back to our chicken. To know if it's cooked, insert a fork around the leg. If it penetrates easily then the chicken is ready to serve.
Ingredients:
500g cottage cheese cut in cube
1 red bell pepper , cut in squares
1 capsicum , cut in squares
2 onions, cut in squares
1 tbsp. oil
1 tsp Chat masala powder
For marinade:
1 tbsp ginger paste
1 tbsp garlic paste
½ cup curd
1tbsp red chili powder
1 tbsp. garam masala powder
Salt to taste
Method:
In a bowl, combine well all the ingredients for marinade, add cubed cottage cheese and squared veggies, rope them on a skewer and grill on a griddle pan or on a grill till slightly charred on edges.
Keep turning and basting with oil in between.
Once done sprinkle chat masala and serve hot.
Ingredients
Soba noodles 300 g
Broccoli 100g
Sugar snap peas 150 g
Carrot 2
Spring onions 2
Ginger 3 cm
Sesame oil 1 tsp.
Soy sauce 2 tbsp.
Rice wine vinegar 1 tbsp.
Juice of half lemon
Salt and pepper
Method
See Also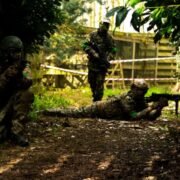 Home » 5 Easy To Cook Recipes To Keep You Warm During Winters
Trim broccoli from its stalk into florets.
Peel the carrots with a peeler to make ribbons. This will give a nice elegant look to your salad.
In a large saucepan boil water and add to it soba noodles, broccoli, sugar snap peas, carrot ribbons and little salt.
While noodles are getting done let's prepare the dressing. In a small bowl grate the ginger and add soy sauce, rice wine vinegar, sesame oil and juice of half a lemon. Whisk it properly so that everything comes together.
Chop the spring onions.
When noodles are done, drain them and put it in a salad bowl. Now add the spring onions and the dressing on top along with salt and pepper; toss it properly.
Your super healthy soba noodle salad is ready to be served
Ingredients:
For the dumpling dough:
Flour 250g
Oil 2 tbsp.
Salt 1 tsp.
Water
For the stuffing:
Chives or spring onion, finely chopped 100g
Black pepper ½ tsp.
Soft Butter 1 tbsp.
For the meat sauce:
Onion ½ , chopped
Mince garlic 1tsp.
Red tomato chopped 2
Red bell pepper, chopped 1
Chili, chopped 1 tsp.
Turmeric powder ½ tsp.
Salt 1 tsp.
Cooked chana dal ½ cup.
Lamb mince 100g
For garlicky yogurt:
Garlic clove 1
Yogurt ½ cup
Method:
For the dough, mix everything together, knead it properly and keep it to rest for ½ an hour.
Then roll it out in thin pasta sheets, cut the squares or rounds of it.
Make the stuffing by mixing all the ingredients together. Place the stuffing at the centre of cut out pasta sheets. And fold in shape of tortellini.
Now cook them in salted boiling water. When they get cooked they will flip.
Now for the sauce. Heat the pan and add oil. Sauté the onion. Add garlic, chilli, red bell pepper, tomatoes, turmeric, lamb mince and cooked chana dal. Add water and simmer till the lamb is cooked
Crush the garlic with salt and add to the yogurt, mix properly.
Now to serve, in a patter, spread the yogurt, place dumplings on top of it and cover it with prepared meat sauce.
For the final flourish sprinkle, fresh mint.
So what are you waiting for guy (and girls), cook these fabulous dishes and do share your experience here with us. And if you have any further questions for Chef Pallavi- drop in a message and we shall get it answered for you!